Iowa Pitching Responds To Surging IU Offense To Tie Series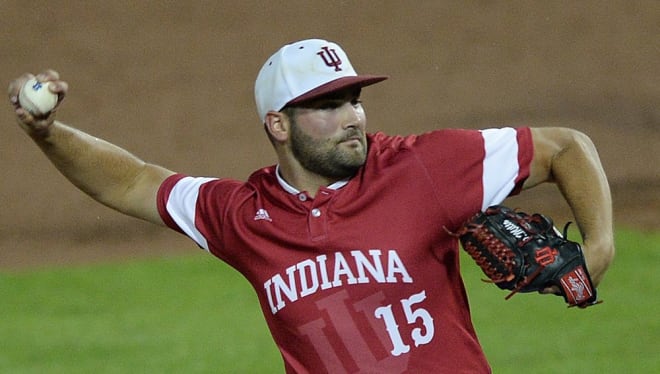 The Hoosiers split a Friday double-header with Iowa to begin Big Ten play in the 2018 season. Both games were low-scoring, as pitching was expected and has proven to be the deciding factor in the series.
Click HERE to read the recap of Game One of the IU-Iowa double-header Friday afternoon.
Where the IU offense jumped on Iowa's pitching in the afternoon game, forcing a total of 11 hits, it was the exact opposite in IU's 5-1 Game Two loss. The Hoosiers were held to just two hits all evening. Iowa starting pitcher Brady Schanuel has a strong outing, allowing just one hit, four walks and striking out 11 batters in 7.0 innings. All but two starting Hoosiers — senior outfielders Logan Sowers and Laren Eustace — struck out, including multiple strikeouts by junior outfielder Logan Kaletha, sophomore outfielder Matt Gorski, freshman infielder Elijah Dunham and sophomore shortstop Jeremy Houston.
Kaletha and junior designated hitter Matt Lloyd were the only two IU batters to record hits, and junior infielder Luke Miller drove in the only run on a sacrifice fly after freshman outfielder Sam Crail was hit by a pitch during his pinch-hit at bat.
IU junior starting pitcher Pauly Milto logged his shortest start of what has been his best season so far. He lasted just 1.2 innings, allowing three earned runs on five hits, two walks and no strikeouts. Milto totaled 44 pitches in the two innings he pitched.
Out of the bullpen, senior Brian Hobbie and freshman Tommy Sommer were able to find success, as they combined for 1.2 innings pitched with one hits, two walks and no runs allowed. Timmy Harrin went 2.1 innings and pitched strongly for two clean innings before allowing a home run and a double in the sixth inning.
Freshman pitcher Connor Manous made his fifth appearance of the season, coming in to get IU out of the sixth inning and finishing the game for a total of 2.1 innings. Manous pitched clean until the bottom of the eighth inning, when he allowed a home run.
IU and Iowa will play the series finale Sunday at 2:05 p.m. to decide the series winner.