{{ timeAgo('2022-06-22 14:19:05 -0500') }}
football
Edit
Indiana Football: Luke Haggard named top-10 tackle for 2023 NFL Draft
The Indiana football program struggled all last season on the offensive line, but returning a majority of the starting line for the 2022 season, there is hope that unit will raise to the occasion and be much more consistent.
One player returning is fifth-year tackle Luke Haggard. The former junior college prospect has made a significant jump over the last year for the Hoosiers and in turn, has seen his NFL Draft stock rise.
According to Pro Football Focus, Haggard is listed as the No. 9 offensive tackle among draft eligible prospects for the 2023 NFL Draft. He is one of three Big Ten tackles on the list, including No. 1 prospect Peter Skoronoski and then No. 3 on the list, Ohio State tackle Paris Johnson.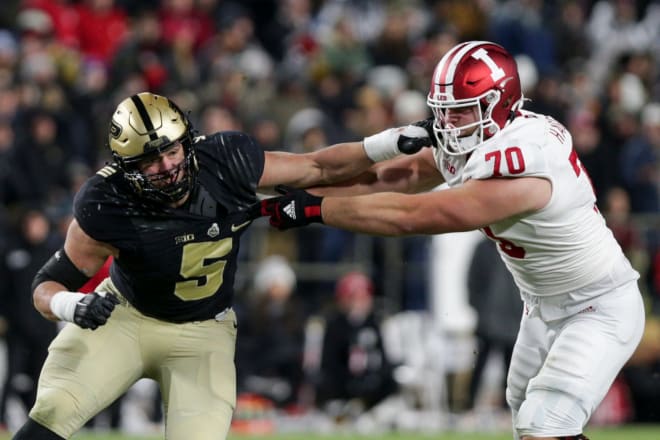 In two seasons with Indiana, Haggard has made 15 starts and appeared in 17 total games. All of his appearances are at left tackle.
After missing the season-opener against Iowa last year, Haggard was in the lineup for the remainder of the season, starting 11 games. Haggard received the team's Chris Dal Sasso Award which is given out to the team's most Outstanding Lineman.
In 2020, Haggard was part of an offensive line unit that led the Big Ten (T-17th nationally) in fewest sacks allowed per game (1.25).
Prior to his arrival at Indiana, he was an All-Bay 6 Conference selection and All-NorCal Region honoree while playing for Santa Rose Junior College.