Camion Patrick, T.J. Simmons' IU Careers Over Due To Medical Hardship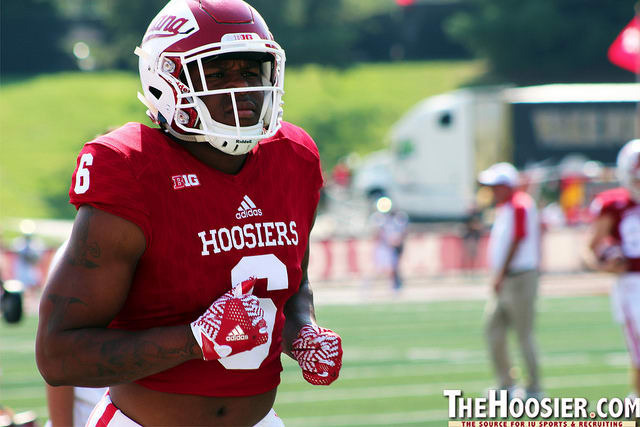 The college football careers of IU running back Camion Patrick and linebacker T.J. Simmons are finished.
Both fifth-year seniors were granted medical hardship waivers which will end their collegiate playing days, the program announced Monday morning. Waivers submitted by Indiana's medical staff to the Big Ten Conference were approved by a committee within the league office.
Simmons started 35 times and appeared in each of the first 37 games of his career at middle linebacker before he received a medical redshirt in 2016. The Lakeland, Fla., native tallied 213 career tackles with six sacks, 16.5 tackles for loss, two forced fumbles and one fumble recovery.
Although Simmons' collegiate playing career is over, the former Lakeland (Fla.) High standout will still remain with the program as a student assistant coach.
"T.J. was a three-year starter and a tough kid that I was looking forward to coaching," IU head coach Tom Allen said in a statement. "He did everything that he could to get himself back from his knee injury, but he was unable to reach a place where he could consistently play. T.J. is excited about his new role as a student assistant coach in the weight room and on the field. He will be helping his teammates get better. T.J. has such a passion for the game and this program, and I am thrilled to have him help us breakthrough."
Patrick, who arrived at IU via East Mississippi Community College in 2015, suffered an ACL injury during spring ball last year and returned to action on Sept. 24. He sustained a late season shoulder injury which required offseason surgery.
In 2016, he caught six passes for 154 yards with a 40-yard touchdown grab and rushed four times for 10 yards with a touchdown at No. 3 Michigan.
"Unfortunately, Camion dealt with multiple injuries during his time at IU and was never able to fully recover," Allen said. "He has worked hard in the classroom. Camion has battled to get back following each injury, but his body has let him down. He recognizes that. We recognize that, and we want to help him finish strong in the classroom and help him create a bright future for himself."