Zeller, Teague lead junior turnaround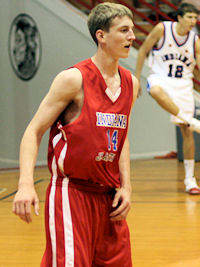 What a difference a couple days makes. After losing by 36 points on Monday in
Fort Wayne (125-89), the Junior All-Star boys took command early in Rushville
last night and never backed down, prevailing 92-78 in the second of the two
contributed 13 points and 11 rebounds.
After the game Junior team coach David Benter (Brownstown Central) spoke
about how his two stars helped lead the turnaround.
"We felt both of those two guards were quite capable of playing better than
they had on Monday," said Benter. "Both of them really came out and set the
tone. Zeller inside and with Teague, there was a four or five minute stretch in
the first half where he really put on a clinic."
Teague added five assists and Zeller was an impressive 6-7 from the field and
contributed three assists himself and a pair of blocked shots. In the Monday
game Teague was held to 10 points while Zeller scored just six points, making
just 2-8 field goals.
Zeller said the turnaround was all mental.
"We just came out and played with more passion and played a lot better," said
Zeller.
His coach agreed.
"It was a matter of those two coming out and focusing and coming out and
battling," said Benter. "I don't think the team battled on Monday like they did
tonight."
After the 36 point win on Monday, it was easy to understand how the Senior
team would overlook the younger counterparts.
"I think the seniors were coming down here and planning on winning but we
were looking for redemption and we played well," said Zeller.
The older Indiana All-Stars actually led 29-24 midway through the first half
but Teague keyed a 18-2 run that established the junior team's lead for the
remainder of the game. At halftime the younger team was up 46-37. A 13-4 run by
the seniors managed to cut the margin to 54-50 but they could pull no closer
than that. A couple second half threes by Center Grove's Andrew Smeathers helped
keep the seniors at bay in the latter part of the second half. The 6-foot-7
Smeathers finished with 11 points, making 3-4 from beyond the arc. Dee Davis
from Bloomington South had 12 points and Ryan Taylor of Lawrence North was the
other junior in double figures with 11 points.
For the second straight game, top 10 ranked Lawrence North center
scoreless minutes last night, picking up four fouls in his short time on the
court. Fouls were also his downfall in a five point effort on Monday night.
off the bench. He told Peegs.com after the game he plans another visit to
Indiana soon.
The Indiana All-Stars were led by New Albany's Donnie Hale. The 6-foot-7
forward who will head to prep school before enrolling at Purdue hit 6-11 field
goals and finished with 17 points. Mr. Basketball Deshaun Thomas had 15 points
but thanks to a smothering defense by the Junior team was only 6-17 from the
floor. Butler bound Crishawn Hopkins was the only other player in double figures
as the Indianapolis Manual guard had 14 points on 3-10 field goals.
In the girls game the Junior All-Stars also prevailed. Bria Gross of Ben
Davis was clutch late as the junior girls scored the game's last nine points in
regulation to force overtime. Her team rode that momentum in overtime to a 84-76
victory. Gross finished with a game 21 points.
The Indiana All-Stars now move on to face their Kentucky counterparts on
Saturday at Conseco Fieldhouse. The girls game will tip-off at 5 p.m. and the
boys will play following that at approximately 7 p.m.