Vincent Fiacable ready to suit up for Hoosiers
For Fort Wayne Bishop Dwenger's Vincent Fiacable, the opportunity to stay at home and continue a family dynasty was something he always wanted, especially if it meant playing for the Indiana Hoosiers.
His father played for the Hoosiers during the 1990's, and his brothers, Stephen and Mike, were on the roster in the 2010's. In addition, his brother, Nick, is a student assistant.
"I have always dreamed of playing for IU football," Fiacable told TheHoosier.com. "I have been going to games since I was in the first grade. I have always been around the program, and I want to play for a team that I know and love. I will play wherever the coaches need me, whether that is center, guard or tackle."
He played left tackle and defensive tackle for Bishop Dwenger, and Fiacable was also selected to the 2020 Indiana Football Coaches Association Top 50 all-state selection. He was a team captain, first-team all-conference and ranked as the 10th best prospect in Indiana and the 38th best offensive guard nationally by ESPN. Fiacable had offers from the likes of Ball State, Cincinnati, Columbia, Eastern Michigan, Fordham, Illinois State, Indiana State, Louisville, Ohio, Princeton, San Jose State, Western Kentucky, Western Michigan and Yale.
"It's an awesome feeling to know that I will be a part of the IU football team in the near future. What sets Indiana apart from everyone else is that they play all four quarters to the very end, and they give every team their very best," Fiacable said.
Not only has Indiana been around Vinny Fiacable in his household, but the Hoosier connection runs deep on the football field as well. At Bishop Dwenger, Fiacable played next to 2020 Indiana early enrollee Luke Wiginton and blocked for Indiana walk-on Patrick Finley.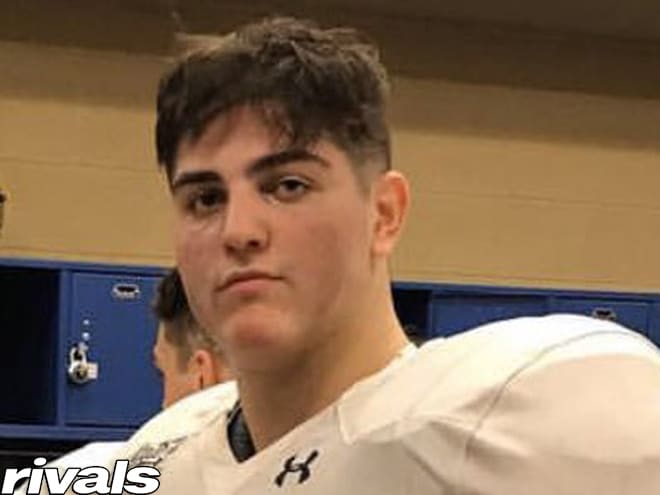 After signing on early signing day last month, Fiacable announced he would enrolling this month and he has been preparing for the moment since his high school season ended, he told TheHoosier.
"Ever since our season ended, I have been training to become as prepared as possible for the next level. I am excited to start something new and get after it down in Bloomington. My main goal is to be as prepared as possible and put myself in the best possible position to make a contribution to the team. I can't wait for this next upcoming journey," Fiacable said.
On signing day, head coach Tom Allen talked about the importance of guys getting to campus early and how excited he was about getting in-state talent like Fiacable signed.
"Anytime you come early, it gives them a jump start on learning the playbook. It gives them a jump start on physical preparation, just the mental adjustment to college and the schedule," Allen said.
Allen continued by saying Fiacable is the type of player he wants to build a program around. Fiacable said those comments assured him he was headed to the right program.
"That made me feel pretty good knowing that I am going into a program where I am wanted. I just want to help out the team as best as possible anywhere they need me to be at. I am excited to be a part of of this program for the next four years," Fiacable said.
And the opportunity to learn the playbook, and, potentially, get on the field early is a huge reason why he enrolled early.
"I, obviously, want to get on the field as soon as possible. No one likes to sit on the sidelines, and neither do I," Fiacable said. "I know that arriving on campus in January will give me a good head start, and my first spring ball is going to be a great experience for me as well. When I get there, I am just going to keep my head down and work as hard as possible and see if I can make an opportunity for myself from it."