Tom Allen Has "No Knowledge" Of Involvement In Wake Forest Play Leaks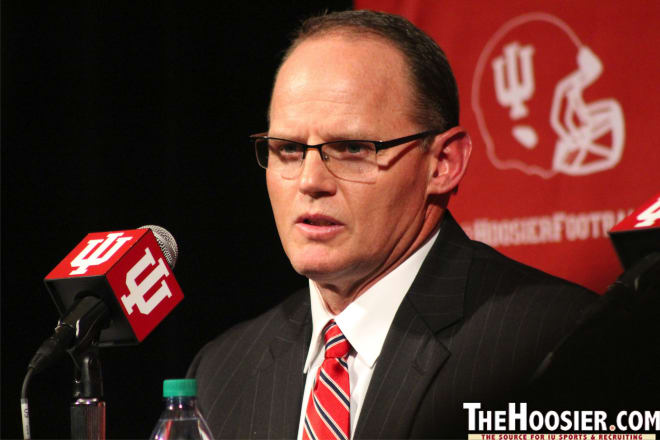 IU head coach Tom Allen has no knowledge of Indiana using information from former Wake Forest radio announcer Tommy Eldrod, who was fired for leaking confidential information to Demon Deacon opponents, he told the Grady & Big Joe Show on 93.5 Indianapolis (ESPN).
"All I know is I was not here at that time apparently if anything had happened," Allen said. "All I know is we had no contact with anybody since I've been here. So no knowledge of it whatsoever on my part."
Allen explained on his radio appearance that teams typically call other schools for tips on how to beat upcoming opponents. They'll ask things like what they had seen on film or what strategies worked or didn't.
But that's it.
"It's just using an opponent that plays against them," Allen said. "To me, that's where you draw the line. There's never any conversation with anybody else from any team that's there currently at that point."
Allen called the story out of Wake Forest "crazy" that he found hard to believe, even though it's proven to be the case. Even if IU was to receive information ahead of time, Allen said it wouldn't be all that helpful unless they had specific plans for Indiana because of how much play books change based on opponent.
"From a professional perspective, a lot of us have other guys' play books from when you worked on their staffs or whatever," Allen said. "I think those don't help at all. If you knew checks, if you knew things that they were going to be able to do schematically to use against you based on your scheme that you were doing that week, I would see that helping. But a raw play book? Nah, that wouldn't really help much."