Q&A With Dexter Williams: Committing To IU, WR Class, DeBoer, And More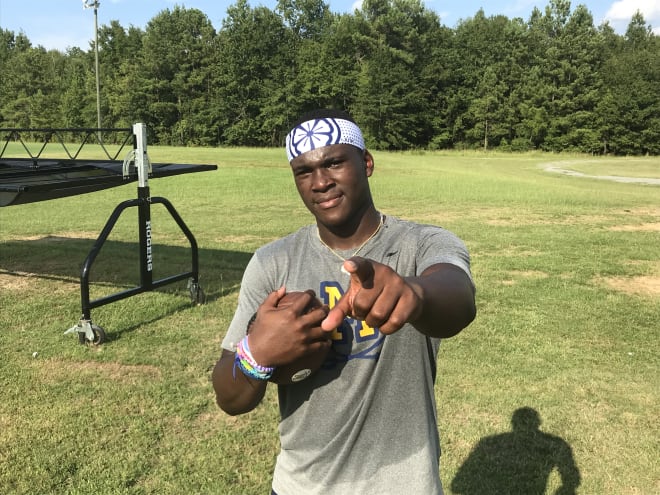 TheHoosier: You committed after your unofficial visit in June. How is the committed life treating you?
Dexter Williams: "It feels good to be able to just focus on the season, build a relationship with my future coaches, and know where I'm going to be in January. It's just stress-free compared to before; I couldn't even focus on the summer because I was gone so much. I'm happy that it's over."
TH: Where all did you get to visit in June before committing to IU?
DW: "Just UCF, Georgia Southern, Georgia State, and of course Indiana."
TH: How are the conversations now with the Indiana coaching staff and how is everything going with offensive coordinator Kalen DeBoer?
DW: "There's a lot of football talk, but more often than not, we're talking about life things and just getting better off the field. I love Coach DeBoer. He's a really cerebral guy when it comes to football. I love the way he coaches. I've watched many videos on him coaching and I really like him. I think we can work together well. When I was up there, we were on the board and watching film. On the field, he was teaching me and I incorporate those things into my game now, like ball placement and things of that nature. I'm really excited about it."
TH: Indiana has Rashawn Williams, David Baker, and Jalen Williams committed as pass catchers in your class. How excited are you as a quarterback to have those guys in your class?

DW: "You want great playmakers around you. Those are the types of guys who make you look good. You make mistakes and they fix them. They are natural football players at heart. Rashawn and I have a good relationship. I talked to him multiple times a week. He's a really good guy, and I can already tell that he's going to be one of my better friends. Also, Indiana offered a guy from Jones County (Jonatavis Robertson) who I'm really good friends with. I'm trying to get him on board too. He's a really good receiver."
TH: When you talk to Rashawn, what are those conversations like? What do you guys get to talk about?
DW: "It's about football, a little bit of everything. We'll talk about campus life, football, how I'm going to get him the ball, and how he's going to make me look good. I just can't wait to get on campus with him."
TH: Do you connect with any of the other Indiana commits?
DW: "We have a Snapchat group chat. It's really fun; we talk about all kinds of things. Sometimes we talk about Rivals' rankings and things like that. It's really fun being in there and talking with some of my future teammates."
TH: Who are some characters in that group chat?
DW: "Rashawn is one of them. Luke Wiginton is a really funny guy -- and Ty Wise. Those are three great guys."
TH: How great is that camaraderie and already knowing your future teammates?
DW: "It's really fun. You can't really ask much more than going out and playing with a bunch of guys that you're close with. It's like a battlefield where you're going out with your brothers and trying to get a win. Being so close already will make that transition easier when we're there. I can't wait to be around them."
TH: Let's say you have an incredible season and a bunch of big time SEC schools start offering you. How would you handle that situation with your commitment to Indiana? I know this is putting you on the spot, but do you hvae any thoughts on that?
DW: "I've thought about this. Me and my family have talked about this, but we're really stuck on IU. I really love how Coach DeBoer coaches. I think I could be a really successful quarterback in his system."
TH: What is it that makes you so stuck on IU?
DW: "Coach DeBoer, Coach Allen, and the coaches. Even the assistant guys that I don't know will text me and will FaceTime me during practice. It already feels like my home away from home. I don't know if I can replicate that anywhere else. There's nothing like Indiana."