Michigan O-Line Standout Michael Furtney Rekindles IU Relationship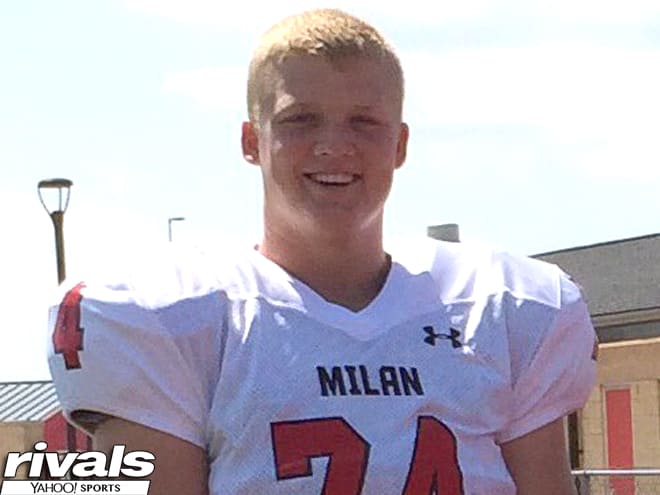 Indiana's restructured coaching staff under the guidance of new head coach Tom Allen is rekindling a relationship with 2018 offensive tackle Michael Furtney.
Furtney, a native of Milan, Michigan, was briefly targeted by Kevin Wilson's staff and even managed to visit Bloomington once before. That relationship didn't seem to be developing quite like Furtney wanted, so he moved on and began focusing on other schools.
But then Nick Sheridan became a Hoosier.
Sheridan, IU's new quarterbacks coach, recruited Furtney briefly while at Central Michigan for about a month. He passed along word to Allen that IU should chase after Furtney, and sure enough Furtney visited campus last weekend after being offered Feb. 12.
"Coach Sheridan got to know me pretty well when he was at Central for a few weeks," Furtney said. "When he came to Indiana he put my film on the table and said, 'Hey. We should offer him.' Sure enough, I got the offer."
If it seems odd that a quarterbacks coach made a push for an offensive lineman, it is. But there's a reason for it.
Sheridan grew up near Furtney's high school coach. That connection led to Furtney being brought up as a candidate for Central Michigan and then Indiana once Sheridan bolted for Bloomington.
That prompted Furtney to want to take another look at the Hoosiers.
"I went on a visit with the previous staff, but it didn't seem like they were all that interested in me at the time," he said. "If there's nothing there, why try and pursue it? So it kind of stopped there. But now the new coaching staff has shown more interest in me."
Indiana isn't alone in that pursuit either. Furtney has nearly two dozen offers including Ball State, Central Michigan, Cincinnati, Darmouth, Kentucky, Minnesota, Missouri, Nebraska, Princeton, Vanderbilt and Wisconsin, among others. Michigan is also starting to show interest.
The majority of these schools have been entering the picture lately. Furtney has picked up about a dozen offers in the last month alone and continues to hear from other programs.
What makes Furtney stand out, among other things, is his versatility. Most schools project to play him at the offensive tackle spot, but he's open to moving to guard or center if that's what it takes for him to reach the highest level.
When he's sifting through offers Furtney said he'll prioritize the men leading the program.
"The coaching staff, to me, is everything," Furtney said. "The coaching staff and the culture that they've created at the school. That's going to be most of it. I want to go to a program that has good relationship-building coaches and a program that fits my playing style as well as my lifestyle."
Furtney said he's enjoying the chance to get to know Indiana's coaches, especially after last weekend's visit. He said Bloomington was a beautiful place he could picture himself living in.
"I always like going and seeing the culture of the town, the vibe of the town," he said. "But Indiana's also got great facilities, especially their weight room. I've never seen a weight room that big before."
This journey through recruitment has been a longtime coming for Furtney, who started playing football when he was just four years old. He grew up playing the game with his friends after school to pass the time, and it's become his passion.
That passion, combined with natural talent, has made Furtney one of the better prospects from the state of Michigan.
"It's pretty much been a part of my life ever since I could play," he said. "It's just always been a bond. I've just gravitated towards it."
Furtney will no doubt get a chance to continue his playing career at the next level. It's just a matter of where he elects to play.
After his most-recent visit to Bloomington, he said he's going to keep the Hoosiers in mind. He plans to try and continue to develop relationships with the staff and perhaps return for another visit in the future all while checking out other programs as well and enjoying the process of finding a fit.
"It's definitely a roller coaster," he said of his journey. "At some points I'm having some of the best times of my life. Other times, I'm probably the most stressed I've been in my life. It's a roller coaster, but it's fun at the same time."