Life Since Baseball: Indiana, Jeff Mercer Adjusting to Changes
It was just another baseball game for Indiana, until it wasn't.
Indiana defeated Cincinnati, 6-2, on Mar. 11— the team's final midweek game before preparing to take on Memphis at Bart Kaufman Field that coming weekend. That series never happened.
The remainder of the season? Canceled.
"Life is difficult, often filled with situations out of our control," Indiana head coach Jeff Mercer said in an interview with TheHoosier.com. "Chaos presents opportunity. It's our opportunity to make the best of those situations and use them to our advantage."
College sports have been at a standstill since Mar. 12 due to the COVID-19 pandemic. In the Big East Men's Basketball Tournament that day, Creighton squared off against St. John's, playing the first half of their game. The two teams never came out for the second half. Instead, they were sent home, just like every other college athlete.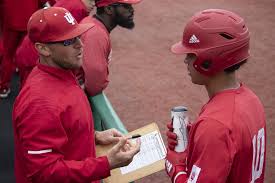 As for Mercer, communicating with his players from home has been a different experience. However, the team is still able to accomplish many tasks that were once done in-person.
"We've met as positional groups several days a week throughout the shutdown via Zoom. We've covered every possible topic: film study, strategy, fundamentals, diet, nutrition, weight lifting," Mercer said. "I feel very good about the amount of information we've been able to communicate and the development that has happened over the past few months."
A particular group of players that have been in question since the college baseball season ended are members of the senior class. The Hoosiers have seven players listed as seniors (or redshirt seniors) on their roster: Collin Hopkins, Grant Macciocchi, Jordan Fucci, Grant Sloan, Jeremy Houston, Cal Krueger, and Braden Scott.
According to Mercer, four players have informed the program that they intend to return next season— Hopkins, Macciocchi, Houston, and Scott. Krueger and Sloan have decided not to return in 2021, ultimately ending their careers with the Hoosiers. Fucci still has not made his decision on if he will come back next year, and is expected to announce his plans after the undrafted free agent signing period.
The NCAA Division I Council made their unprecedented decision for spring sport athletes to be granted an additional year of eligibility on March 30, paving the way for seniors to return to their respective programs should they choose to do so.
Last Wednesday, the NCAA Division I Committee for Legislative Relief announced that the 35-man roster cap would be lifted for next season, due to many players opting to return for a second chance at their senior seasons.
"The rule change doesn't dramatically change our plans for next year's roster," Mercer said. "It does give us a little more flexibility if a graduate transfer that fills an immediate need for us becomes available."
After having no selections in the five-round 2020 MLB Draft, Indiana is set to have a majority of the players on their roster back to try and make a run at returning to the NCAA Tournament next season.