{{ timeAgo('2020-11-22 09:27:44 -0600') }}
football
Edit
Legend of Penix continues to grow: 'None of us are surprised'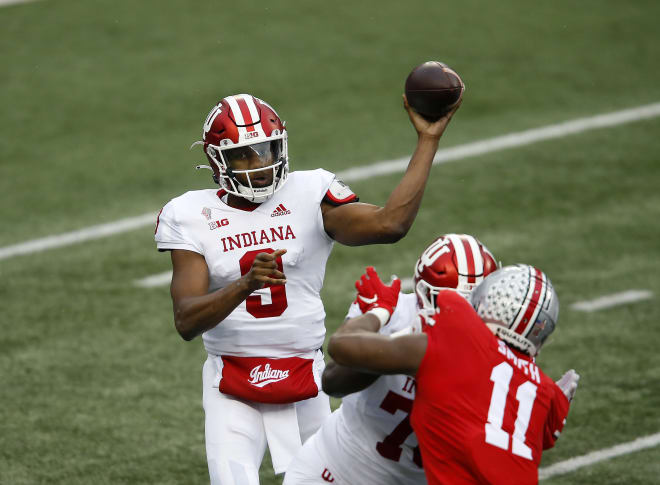 COLUMBUS, OH -- At the age of 15 as a high school sophomore at Tampa Bay Technical High School, Michael Penix surprised his head coach Jayson Roberts.
Not with his arm or pinpoint accuracy, but rather with his mind and ability to see things that not many others could.
"He explained to the quarterback, who was the returning starter here, about how he has to anticipate where the wide receiver is going to be and throw the ball there before he gets there. We were floored to hear a young high school quarterback talk like that with such conviction," Roberts told TheHoosier.com.
Penix would follow that up with a "laser" 10-yard out right to the right sideline from the left hash that showed Roberts he truly had something special.
"There's not too many NFL quarterbacks who are throwing that route like that," Roberts said.
Penix would start his final two years at Tampa Bay Tech, throwing for over 4,000 yards and 61 touchdowns. Colleges immediately started to show interest from Tennessee to Ohio State and every school inbetween.
"The funny thing is Coach Greg Schiano, when he was at Ohio State, was really intrigued by Mike and he was really pushing for even. He even convinced Ryan Day to come down and watch him throw. Coach Day told me Mike was making throws that none of his current quarterbacks at Ohio State could make," Roberts said.
Penix would commit initially to Tennessee, but when that fell through, Indiana came in and when he committed to the Hoosiers, it should have been no surprise that Indiana was getting a tremendous talent.
However, a torn ACL would rob him of his first season at Indiana, but he was able to show what he could do going 21-of-34 for 219 yards and a touchdown.
A season ago, Penix took a huge step forward in wowing people and showing how he had the ability to be an elite talent.
The Tampa native started all six games in which he appeared and wasted little time rewriting the Indiana and Big Ten record books, completing 110-of-160 passes for 1,394 yards and 10 touchdowns.
His greatest game came in his first career road start at Michigan State, who was ranked 25th, as Penix was 33-of-42 for 286 yards and a career high three touchdowns. He would earn Indiana Offensive Player-of-the-Year honors for his performance.
But, then injuries crept in and Penix would miss the remainder of the season after sustaining a right sternoclavicular joint injury against Northwestern. Penix would miss the Old Oaken Bucket game and the Gator Bowl against Tennessee, the school he initially committed to before coming to Bloomington.
Penix used the time rehabbing and on the sidelines to get better, especially from a mental standpoint.
"Last season not getting to play as much as I wanted to allowed me to have more mental reps, watch more film and understand everything more," Penix said. "It was a great experience, it wasn't what I wanted, but I took advantage of it. It showed me some things I needed to work on."
Roberts said, if anything, the time away from the field allowed Penix to have a perspective of seeing the game more like a coach from the sidelines.
In an offseason hampered by the ongoing Covid-19 pandemic, Penix refused to let the 2019 season be his best, putting in the time and adding weight with two major goals -- get better and stay healthy and on the field in 2020.

When the season began against Penn State, it took Penix quite some time to generate the offense as he looked rusty and sailed passes against the Nittany Lions.
However, he was able to conjure up enough moxie and add to his legacy with a plunge for the pylon, lifting the Hoosiers to a 36-35 overtime victory.
He would follow that up with four total touchdowns at Rutgers, followed by a then-career high of 342 yards against Michigan. He would surpass 300 yards again at Michigan State, overcoming two early interceptions to lead the Hoosiers to a 24-0 victory, bringing the Old Brass Spittoon back to Bloomington.
And, through it all, Penix continued to soar up the charts, as the Hoosiers moved up the rankings.
Coming into Saturday's road contest at Ohio State, Penix led the Big Ten Conference in passing yards, while the Hoosiers entered 9th in the Associated Press Poll.
Heading into the contest, all the talk was about Ohio State quarterback Justin Fields and how he only had 11 incomplete passes and was playing in a way that earned him the distinction as one of the greatest quarterbacks in college football at the moment.
Through it all, Penix never bit, opting instead to say Saturday's game was a "great opportunity," but his performance is another that fans will remember and talk about for years.
Trailing 35-7 and with a non-existent running game, Penix put the Hoosiers on his back and almost singe handedly willed the Hoosiers to a victory before falling short 42-35.
When the dust settled, the redshirt sophomore had, again, rewritten the history books and added to his young legacy, completing 27-of-51 passes for a career high 491 yards and a career high five touchdowns. With the 491 yards, Penix moved to second in program history for most yards in a single game, while the five touchdowns put him tied for third in program history.
"Mike is very special," Ty Fryfogle said of Penix following the Ohio State game. "You can look at the tape and he can make any play on the field. He can do anything really. He is very special. When I go back and look at the film, I see some special throws that Mike makes. Mike is a great playmaker. I just love Mike."
Furthermore, the 491 yards passing are the most ever against Ohio State and it marked the highest total yardage output against the Buckeyes at home since 1985. Penix became the fourth quarterback to throw at least five touchdowns against Ohio State and became the first Indiana signal caller to throw for 300-yards in three straight games since Nate Sudfeld did it five years ago.
And, while the numbers were impressive, head coach Tom Allen said Penix's heart, grit and leadership were what resonated with teammates.
"There is no question. I think that is part of leadership. It is by your performance, and the way that you exude confidence to your teammates when they know that as long as we have got time on the clock, and snaps to be played then we have got a chance. So, he shows tremendous poise, that is what we talked about for this game knowing we were going to need it, and he does not just talk about having that, he lives it out and he showed it again this game and he brought us back. Defense made some timely stops, got some takeaways and gave us a chance, but yeah, his leadership by the way that he plays the game is pretty special," Allen said.
Roberts echoed those sentiments, adding that Penix's ability to remain calm under pressure is what sets him apart.
"No doubt it is his coolness in every situation. He doesn't get flustered or rattled by anything. He does not get too high or low about anything that happens. That even demeanor makes him the perfect leader," Roberts said.
Through five games, Penix has rewritten the history books, added to his legacy and had some Indiana fans trying to get '#PenixHeismanWatch' trending after the game.
There is no reason to think he won't have some more record breaking performances up his sleeve the rest of the season, according to Roberts.
"None of us are surprised. I am only surprised at how long it took for people around the country to notice how special he is and that he is a top tier quarterback in the country. I've seen every throw he had against Ohio State five or six times before when he was in high school. We were never worried about the stage being too big for him," Roberts said.
How great can be Penix be when it is all said and done?
Roberts said great and the talk of being a potential future Heisman hopeful and NFL pick are "reasonable things that could happen for him."
"I definitely think his ceiling is still a ways up there. The more games he gets under his belt, the better he'll get week to week. Don't forget he is on his third offensive coordinator in three years.
"The thing that makes him a special person is his toughness, humbleness and respectful nature is a reflection of his family values. His dad was a coach on my staff and his mom was a big supporter of ours," Roberts added. "He's the type of kid you want your sons to be friends with and daughters to date because he always is accountable."