Josh Newkirk Was Enough To Patch Loss Of Devonte Green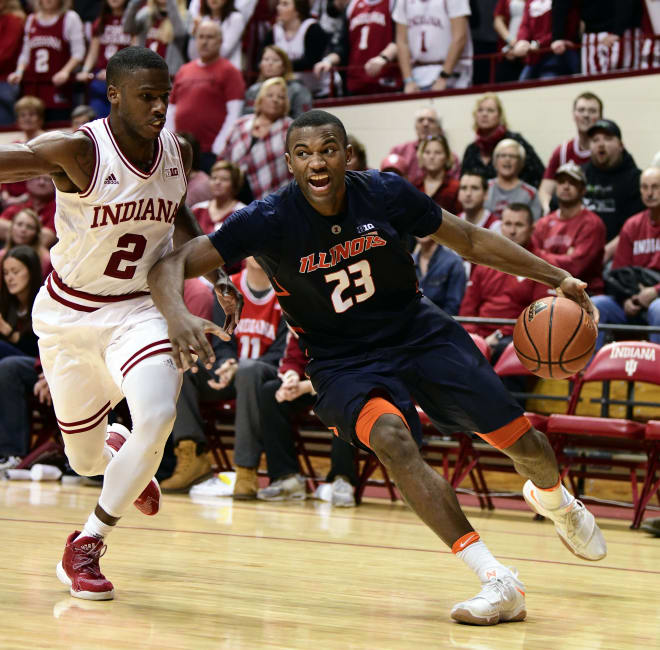 When IU sophomore guard Devonte Green went down after rolling his ankle underneath an Illinois defender on Wednesday night, the crowd of Simon Skjodt Assembly Hall caught its breath.
He was the spark plug, the home run playmaker, the only true constant in guard play in the last handful of games. Which player could replace a vacant position that scored 19 points against Minnesota and 20 against Ohio State?
The immediate band-aid was the senior guard Green leapfrogged into the starting five — Josh Newkirk. The second-year Hoosier helped fill the gap in the backcourt, as IU avenged its initial loss to Illinois, 78-68.
"He did a good job," IU head coach Archie Miller said about Newkirk. "First half, he drove and got a couple big baskets for us to alleviate the pressure."
Newkirk quickly became the long-term answer at the point guard spot, as Green continuously sat on the bench for the duration of the second half, remaining off of his feet with little medical attention.
Meanwhile, Newkirk continued to control the ball and find scorers on the inside, like junior forward Juwan Morgan, who scored 14 points on 4-of-8 shooting, and freshman forward Justin Smith, who scored five second half points on his way to a 13-point performance.
When he wasn't finding guys to score, he was finding ways to the basket, perpetuating the Josh Newkirk of old when he made drives last season that finished off the Penn States in overtime. One play in particular, the IU offense had gone stagnant, so Newkirk meandered around the court, circling the entirety of the half court before finding space on the baseline and putting it in for the score.
The senior also hit a 3-pointer early in the second half, when Illinois was charging back and chipping away at the IU lead. The Hoosiers couldn't find a way to stop the Illini, but Newkirk's three held them off for a while at least.
"I thought in the second half, he made a three — a really big three — and he had a couple of good drives," Miller said. "Got to the foul line and made his free throws."
Newkirk was able to make two free throws and a layup in the final five minutes. The senior ended with 11 points, three assists and three turnovers in 21 minutes. It wasn't a perfect game — it wasn't his best and wasn't his worst — but it was enough.
And while Miller said he believes Green will be fine, the head coach said Newkirk will find more minutes either way if he continues to be enough.
"It's nice to have him play the amount of minutes he did and also put some points on the board, and also make some crucial shots for us," Miller said. "And he'll get more. I mean, right now, we're by committee. If we have a group that's playing well, we'll stick with them."