IU Baseball Drops Home Opener To Cincinnati 8-3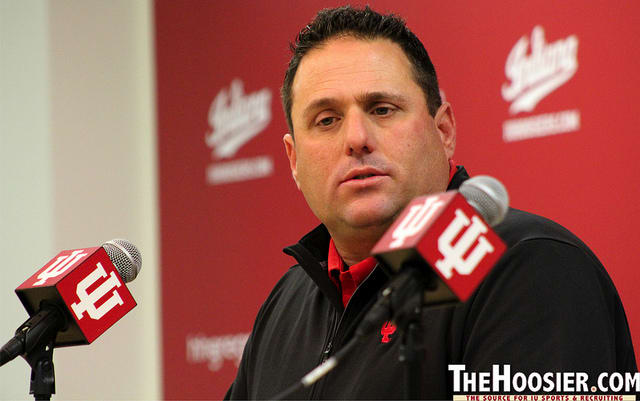 After a strong showing at San Diego over the weekend, No. 12 Indiana dropped its home opener to unranked Cincinnati 6-1 Tuesday evening at Bart Kaufman Field. The Hoosiers moved to 9-3 on the season with the loss, while the Bearcats moved to 7-5 with the win.
Here's what stood out in Indiana's defeat:
Challenging night for Indiana's pitching staff: Lefty Andrew Saalfrank forced Cinnati's leadoff batter Kyle Mottice to fly out to center, but saw the Bearcats' No. 2 batter Connor McVey homer over the left field wall. A 2-RBI double by Cincinnati's No. 9 hitter Treg Haberkorn led to Saalfrank getting replaced by Brian Hobbie. Hobbie's two scoreless innings and one hit allowed marked arguably the best performance of any IU pitcher, but the Hoosiers cycled through five more. The other five bullpen replacements gave up five of Cincinnati's 8 runs over the final five innings. One of those five pitchers was Kade Kryzsko, whose two earned runs marked his first allowed all year having pitched 4 1/3 scoreless innings out of the bullpen prior to Tuesday's game. It was easily an uncharacteristic night for IU's bullpen, which outside of Tuesday had only allowed five earned runs in 45.0 innings with 33 strikeouts and a .237 batting averaging to opposing hitters.
Lack of offensive production: Indiana managed just five hits, including two through the first five innings. Its side was retired in order in the first three innings, and it didn't record its first hit until Matt Lloyd's single in the bottom of the fourth. The Hoosiers also struggled with timely hitting, going 1 for 8 with two outs compared to the Bearcats' 6 for 14. Cincinnati out-hit Indiana 15-5 Tuesday night, with the Hoosiers' five hits being their fewest in a single game this season. It was an unusual night for an offense that has been stellar otherwise, having recorded at least 9 hits in 7 of its first 11 games this season.
Late rally not enough: Pinch-hitting for Colby Stratten in the bottom of the eighth, Laren Eustace hit an RBI single through the left side to advance Logan Kaletha to second and score Jeremy Houston. Luke Miller's ground out to third to put runners in scoring position for Indiana, then Logan Sowers' RBI groundout to shortstop scored Kaletha. A wild pitch Eustace advances to third on a wild pitch, then Dunham walks. Fineman walked, advancing Elijah Dunham to second. With the bases loaded, Matt Gorski flew out to center. All of this wound up being Indiana's most productive inning when it came to trying to close the gap and best chance at rallying.
Gorski continues his strong play: The sophomore outfielder had one hit in each of IU's four games against the University of San Diego over the weekend and was a big reason why the Hoosiers were able to take the series 3-1. He went 2 for 4 with a pair of singles against Cincinnati and nearly helped Indiana keep its rally alive in the bottom of the eighth inning. His performance helped him boost his batting average from .341 to .356 on the season.
Freshmen Connor Manous and Grant Sloan make their Hoosier and Bart Kaufman Field debuts: Manous helped settle IU down a bit, striking out two of the five batters he faced while allowing just one hit, one earned run and one walk in 1 1/3 innings. He also threw 16 of his 29 pitches for strikes. Sloan, meanwhile, pitched one scoreless inning for IU, forcing the other three batters he faced into a pair of flyouts and a groundout.
Key quotes:
On what Cincinnati right-handed starting pitcher A.J. Kullman was doing well against IU's batters:
"I will tip my hat to their guy. He threw that power sinker in there and we just chased down all day long. I think that was the biggest piece. We just couldnt get it going there offensively."
-- IU head coach Chris Lemonis
"We haven't really faced a big sinker-ball pitcher this year, and he really had that working for him today. We swung a little bit out of the zone and that hurt us."
-- Gorski
On what's been working well for Gorski this season:
"I think it's a lot of the confidence piece. I started off a little shaky, then got in the cages with Coach Cheese and Coach Lucas and got my swing back and I feel a lot better at the plate now."
-- Gorski
On what they want to get out of the next nine games (all at home):
"Wins. We want wins. We got good teams coming. We got Pacific coming form the West Coast. Getting in a groove and playing well. We've been road warriors here for the first three weeks, but we're just trying to get back home and play good baseball. Y'all got to see our worst. Even some of our losses in the other games, we've competed in every game. Today we werent real compettiive. Hopefully we come out ready to go on Friday."
-- Lemonis