IU Baseball Gears Up For Weekend Series Vs. In-State Rival Purdue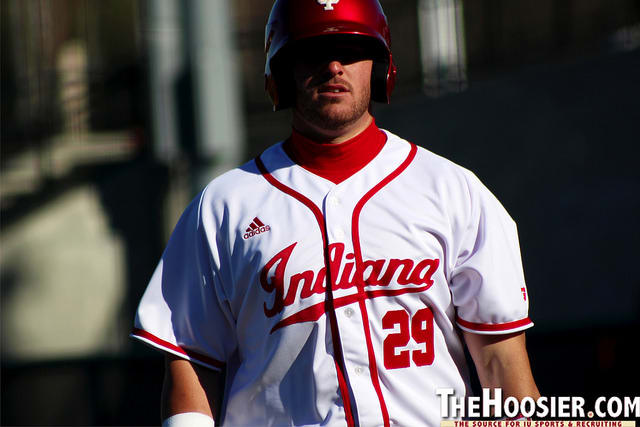 With Tuesday's game at Ball State cancelled due to inclement weather, Indiana's attention quickly shifted to a familiar in-state opponent: the Purdue Boilermakers.
IU's weekend series with its in-state rival kicks off with a 6:05 p.m. ET first pitch Friday night at Bart Kaufman Field in Bloomington, followed a 2:05 p.m. ET first pitch Saturday and 3 p.m. ET first pitch Sunday.
"Rivalry weekend, we talked about it as a ballclub earlier in the week, we call it the water cooler weekend," IU head coach Chris Lemonis said prior to practice Thursday afternoon. "It's a big deal to Indiana fans and Purdue fans. We don't try to act like it's a normal game."
Indiana has won 11 of its last 12 entering the matchup, while Purdue is riding a four game win streak.
The Boilermakers have also experienced their fair share of disruptive weather, having not played since March 31 after last weekend's two-game series with Oakland got cancelled. The Hoosiers haven't played since April 1 because of the cancellation of the Ball State game.
Beyond an unusual schedule, both teams also share having the top two pitching staffs statistically in the Big Ten which should make for a compelling series.
Indiana has lowest ERA the conference with a collective 2.66, with Purdue in second at 3.50. Purdue's Friday night starter, junior right-hander Tanner Andrews, has the third-lowest individual ERA among conference pitchers at 1.99. Saturday starter Garrett Stroh, a left-handed junior, cracks the top 15 in the conference with a 3.12 ERA for the Boilermakers.
The Hoosiers will counter with junior right-hander and Friday night starter Jonathan Stiever, followed by Saturday night starter and junior right-hander Pauly Milto. Sophomore lefty Cameron Beauchamp will get the start on Sunday.
"They've got a couple older starters that have had good careers in our league," Lemonis said of Purdue's pitching staff. "They've been out there and done it. Couple really nice bullpen pieces. They really just compete."
When speaking to reporters Thursday afternoon, both coaches expressed how seriously they take this rivalry. Players are also aware of the bragging rights at stake, especially IU junior catcher Ryan Fineman.
Fineman has experienced the highs and lows of the annual meeting between in-state programs. Indiana swept Purdue at home in 2016, then experienced a 2-1 series loss in West Lafayette last year after an eighth-inning rally by the Boilermakers overcame a 5-3 IU lead.
"It's really exciting. Freshman we swept them, then we went to their place last year and they beat us pretty good," Fineman said. "This year, it means a lot to us to take it to them."
Does last year's series serve as extra motivation to get the sweep this weekend?
"I guess so," Lemonis said. "I mean, last year was two totally different teams. Them coming here and playing, we're playing good baseball, they're playing good baseball. It's a new year."