Quoted: Indiana players react to the team's 51-10 loss to Ohio State
Indiana players react to a 51-10 defeat at home against No. 6 Ohio State.
Quarterback Peyton Ramsey, tight end Peyton Hendershot, linebacker Reakwon Jones and wide receiver Donavan Hale were available after the game and gave their thoughts on a deflating home loss.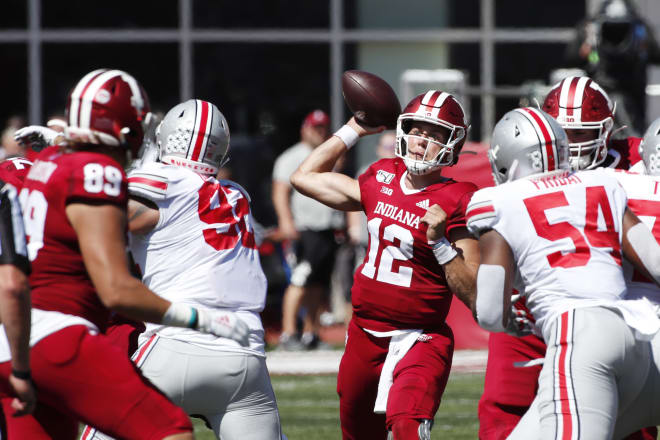 Peyton Ramsey, QB
Junior quarterback Peyton Ramsey started the game against No. 6 Ohio State in place of redshirt freshman quarterback Michael Penix Jr. Indiana head coach Tom Allen said Penix's injury is undisclosed, but isn't thought to be a long-term issue.
"I always prepare like I'm going to go out and be the guy," Ramsey said after the game. "I prepped all week like I was going to be the guy, and I just found out whenever [Tom Allen] told me."
Ramsey finished the game completing 19 of 33 passes for 162 yards and an interception that was returned 96 yards for a touchdown.
"Any time you play an Ohio State, you're not going to have as long," Ramsey said. "As a quarterback you go into this game knowing that."
Peyton Hendershot, TE 
Peyton Hendershot has been a consistent player in offensive coordinator Kalen DeBoer's system this season.
Against the Buckeyes, Hendershot caught four passes for 70 yards and a touchdown thrown by wide receiver Donavan Hale. The trick play went for 49 yards.
"It was wide open," Hendershot said after the game. "We were running this for a few weeks, but we were thinking a safety was going to be there, but it was just wide open. It was unreal."
Reakwon Jones, LB
Indiana's defense was subject to a number of missed tackles and was unable to stop Ohio State's rushing attack. J.K. Dobbins ran the ball 22 times for 193 yards and a score.
"I don't think the effort was where it needed to be," Jones said after the game. "Just overall a disappointing day. It's not us."
In the past few season's, the Hoosiers have put on a fight at home, but lost by 41 points in today's game.
"They're a great team, got great athletes, great coaches," Jones said. "Expect great things from them, but I feel like we got great players, great coaches, great scheme and we just didn't execute to the standard that we have created for ourselves."
Donavan Hale, WR 
Following his first 100-yard receiving game, Donavan Hale caught two passes for 33 yards.
Hale's biggest play of the game came on a 49-yard pass play to tight end Peyton Hendershot for Indiana's only touchdown of the game.
"I just knew that I had to get it to him," Hale said after the game. "I hadn't thrown the ball in a minute."