Big Board Roundup: Romeo Langford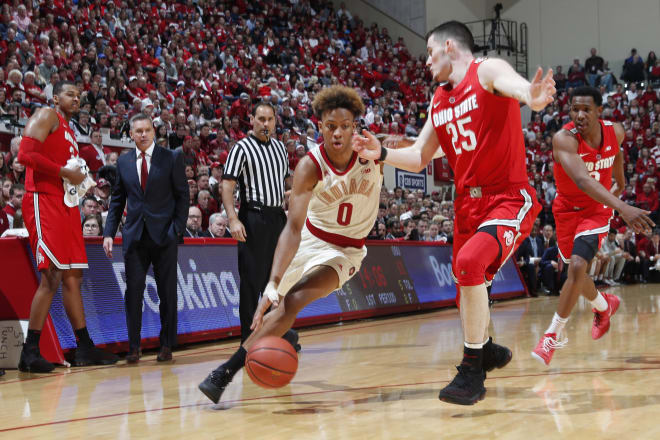 Former Hoosier basketball player Romeo Langford is expected to go in the first round of Thursday's NBA Draft. Let's take a look at where he's at on big boards prior to his big night.
Sam Vecenie, The Athletic
Rank: 19
Quote: "Honestly, Langford is arguably the hardest evaluation in the class because we're working with fairly incomplete information regarding what he is as a shooter. At lower levels, he had the ability to knock down shots from the perimeter off the dribble, but wasn't quite as efficient at it as you'd hope..."
Jonathan Givony and Mike Schmitz, ESPN
Rank: 13
Quote: "The fourth all-time leading scorer in Indiana high school history, Langford stayed home to play at tiny New Albany High School before committing to Indiana. He was a USA Basketball staple who was a consensus top-six recruit. Langford started off his freshman season in impressive fashion but was slowed by a torn ligament in the thumb of his shooting hand in late November. He elected to play through it, which likely prevented scouts from seeing the full extent of his potential."
Kevin O'Connor, The Ringer
Rank: 13
Quote: "Natural scorer at the wing who must refine his decision-making and jumper for his effortless offensive talents to translate in the NBA.
Good physical profile with a wiry frame and long arms. He's agile with or without the ball, and has a quick first step.Innate scoring instincts show in the way he moves, creates space using crossovers and stepbacks, and handles contact at the rim.
Solid perimeter scorer off the dribble. He's a confident shooter from anywhere on the floor who smoothly transitions from his dribble into his jumper."
Jeremy Woo, Sports Illustrated
Rank: 22
Quote: "There is some real reason for concern with Langford, who turned in an uneven season without showing much tangible progression. He played through a right hand injury for a large chunk of it, but he was not a particularly convincing jump shooter beforehand, and still rarely ever went left to compensate. Langford has an NBA body type and is a talented finisher around the rim, but plays a predictable offensive style and struggles changing speeds. If his three-point shot never comes around, he could end up on the fringes of the league sooner than anyone expects. He has not looked the part as a lottery pick, although that may still be where he ends up based on perceived upside and his pedigree as a highly rated high school scorer."