Indiana Football: Dasan McCullough entering the transfer portal
With the inaugural transfer portal window opening on Monday morning, Indiana football is set to lose their most promising - and possibly their best - young linebacker.
True freshman edge linebacker Dasan McCollough took to Twitter on Sunday night to announce that he would be entering the transfer portal.
The Bloomington native will have three years of eligibility remaining wherever he decides to go. It's expected that he will be highly coveted around the college football landscape.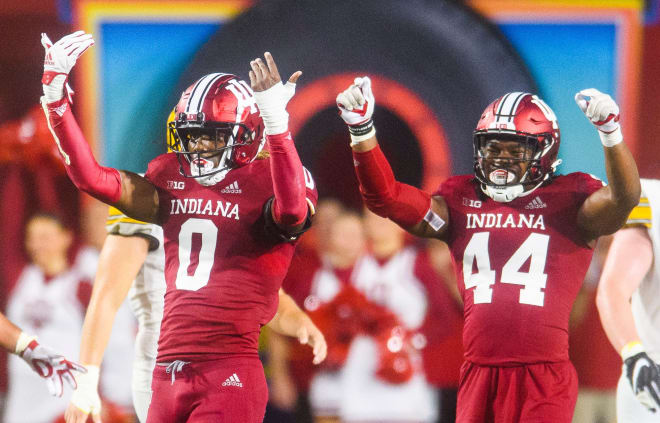 McCullough was the highest rated prospect to ever join the Hoosiers out of high school, and was the best prospect in the state of Indiana in his class according to Rivals. He had flipped his commitment to Indiana after originally committing to Ohio State, at the time forming an eventual McCullough family reunion in Bloomington, with his brother Deland II who was already at Indiana and his younger brother Daeh, alongside their father Deland.
However, after Deland left Indiana's coaching staff for a position at Notre Dame, Daeh reopened his recruitment, and later committed to Cincinnati. He's still fielding offers from other programs as well. Now, after just a season, Dasan is set to leave the university at the same time as his older brother Deland II, who went through senior day festivities in the season finale versus Purdue.
McCullough appeared in all 12 games during his freshman season, and was one of the most effective true freshmen linebackers across the entirety of Division I college football. Heading into the final game of the season, McCullough was tied for the FBS lead in tackles for loss amongst all true freshmen, finishing with 6.5 TFL.
Overall, he accumulated 49 tackles and four sacks in 2022 for the Hoosiers. He co-led the team in sacks, alongside Alfred Bryant.
McCullough's full statement announcing his intentions is attached below:
McCullough was one of the names to watch with the portal's presence looming, given the NIL money an edge rusher of his caliber at such a young age could be worth.
He joins a host of now-former teammates who have made it evident they plan to leave the university and program, joining the likes of Connor Bazelak, AJ Barner, Christopher Keys, Malachi Holt-Bennett, Javon Swinton, and others that will also be looking for new homes this winter.
With the introduction of the portal window, McCullough may not be the last Hoosier to enter the portal. Indiana, like many other programs, will be doing just as much work to retain their remaining players as they will be to find new ones in the portal as well. It's going to be a very, very interesting few weeks upcoming.
Regardless, a 6'5, 230-pound unicorn edge rusher will be at the top of a lot of teams' Christmas lists this holiday season.
Buckle up.