Indiana Basketball: Heavy trade talks around OG Anunoby ahead of NBA Draft
With just hours until the 2022 NBA Draft, former Indiana basketball standout OG Anunoby is in the middle of multiple trade talks.
The current Toronto Raptors forward is rumored to be in a draft-day package with the Portland Trail Blazers. The Trail Blazers hold the No. 7 overall pick, a pick that would go to the Raptors in a potential Anunoby trade, according to NBA insider Chris Haynes.
Anunoby is coming off of a career-year with the Raptors, averaging 17.1 points, 5.5 rebounds and 2.6 assists per game -- all career highs. He shot 44.3 percent from the field and 36.3 percent from three.
The Trail Blazers, who traded away star guard CJ McCollum midseason, are looking to add depth and versatility on the wing. They already traded for Detroit Pistons forward Jerami Grant earlier this week.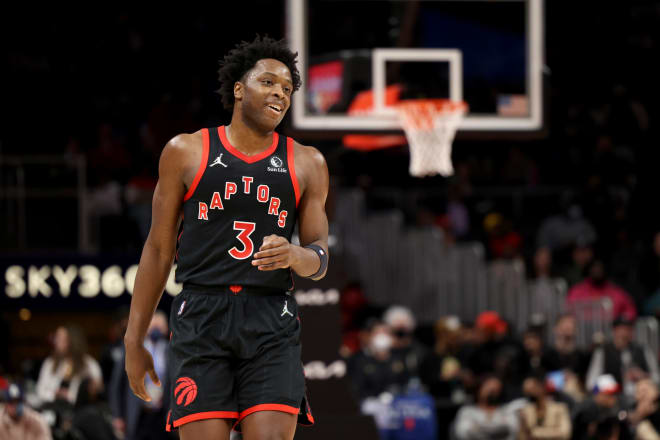 Anunoby has three years left on his four-year contract he signed last offseason. He will be an unrestricted free agent in 2025.
The former first-round pick in the 2017 NBA Draft was taken with the No. 23 overall selection. He has played all five years with the Raptors and averaged 10.4 points per game for his career. He has seen his points per game increase every single year and from 10.6 in his third season to 15.9 and then 17.1 points per game this past year.
Anunoby was a vital role player during the 2018-19 season but missed the Raptors Championship run due to injury.
The 6-foot-7 forward spent two years in Bloomington and played in 50 games. He played in just 16 games his sophomore year after tearing his ACL midseason. He was averaging 11.1 points and 5.4 rebounds per game in 25.1 minutes a game that season.