Indiana Baseball: Texas Ends IU's Season In Austin Regional 3-2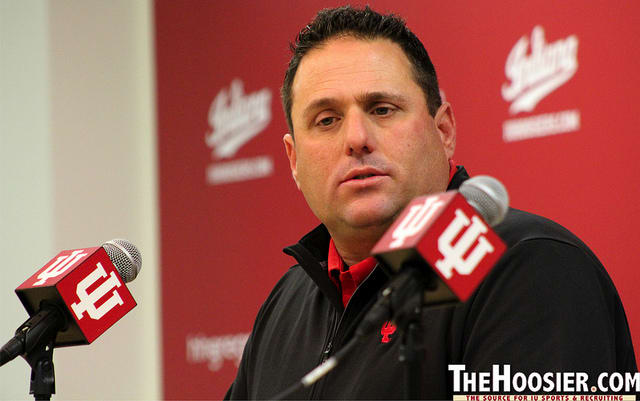 Indiana's season is over.
The second-seeded Hoosiers fell to top-seeded and host Texas 3-2 late Sunday night in the Austin Regional final at Disch-Falk Field for their second loss. They leave the Austin Regional with a 2-2 record and finish the season 40-19 overall.
Indiana's season ending and the Longhorns advancing to their first Super Regional since 2014 didn't come without its share of drama.
After Cal Krueger retired the side in order in the top of the ninth, Indiana loaded the bases with one out in the bottom of the ninth.
Pinch-hitting for Logan Kaletha, Sam Crail struck out looking on a pair of controversial strike calls for IU's second out.
Matt Lloyd stepped to the plate with Indiana down to its final out and appeared to foul out to left to end the game, but the umpires gave Lloyd and the Hoosiers another chance after ruling Texas' Mason Hibbeler didn't complete the catch because the ball left his glove as he was celebrating.
Lloyd struck out swinging, ending the Hoosiers' season.
Texas struck first on an RBI groundout by DJ Petrinsky, who had grounded into a double play that still afforded enough time for Hibbler to score.
Indiana responded with a pair of RBI singles by Jeremy Houston and Luke Miller in the bottom of the second in what would end up being the Hoosiers' only two runs of the contest.
A solo home run to center by Zach Zubia tied the contest 2-2 in the top of the sixth. Texas took the lead for good on Kody Clemens' RBI double to deep right field in the top of the seventh.
Prior to loading the bases in the bottom of the ninth, Indiana's best chance to tie or take the lead came in the inning prior. A two-out Miller single then a ground-rule double over the left field wall by Matt Gorski gave Indiana two runners in scoring position, but Logan Sowers grounded out to third and the rally came to a close.

Andrew Saalfrank tossed a career-high 8 strikeouts for Indiana, allowing just two earned runs off six hits and two walks in a 5 1/3-inning start. Tommy Sommer issued one walk but surrendered just one earned run off two hits in 1 2/3 innings of relief. Krueger closed with 2.0 shutout innings which included two strikeouts and just one walk.