HOOSIER DAILY: Zeller contributes to Heat win, Goetz is interim AD Iowa AD
There's a lot of news each day in college sports and in Indiana Athletics, the Hoosier's Alec Busse highlights them
ZELLER CONTRIBUTES TO MIAMI'S GAME 2 WIN IN NBA FINALS 
Former Indiana center Cody Zeller played eight minutes and scored four points in MIami's 111-108 win over the Denver Nuggets in Game 2 of the NBA Finals.
Zeller's four points on 2-2 shooting from the field are the most points he's scored since the Heat's Game 5 loss to the Boston Celtics in the Eastern Conference Finals. This postseason, Zeller is averaging close to 3.5 points and three rebounds in just over 11 minutes per game.
With the win, the Heat tie the series at 1-1 before the FInals travels to Miami for Games 3-4.
GOETZ NAMED INTERIM AD AT IOWA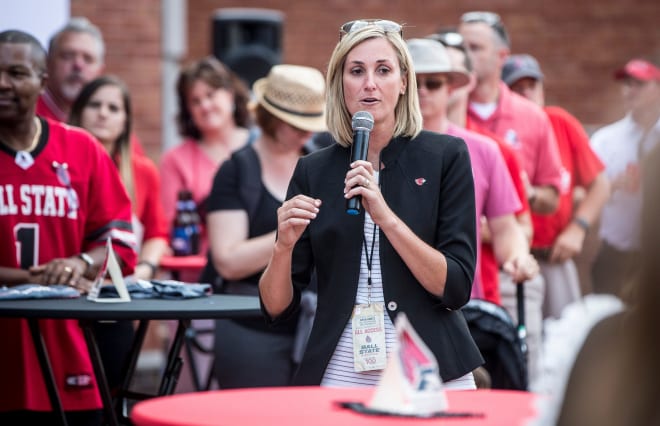 On June 1, Iowa named deputy athletics director Beth Goetz the interim athletic director amid the retirement of department head Gary Barta on Aug. 1. Goetz is serving as the Hawkeyes athletic director through at least early 2024.
"I want to congratulate Gary Barta on his long career at Iowa and thank president Wilson for putting her trust in me and the tremendous people we have here at Iowa," Goetz said. "The Hawkeyes have a proud and storied tradition with the greatest fan base in the country, and I am appreciative of the opportunity to lead the department. I am committed to supporting our talented coaches, staff and student-athletes as we build on the positive trajectory of athletic and academic excellence."
Before accepting the deputy position at Iowa, Goetz was the full-time athletics director at Ball State. She was hired at Iowa after the retirement of Barbra Burke. Before working at Ball State, Goetz held prominent positions at UConn and Minnesota, including interim athletics director in 2015-16.
Barta is retiring after 17 years as the Iowa athletic director, he is just the fourth athletic director at Iowa since 1970, joining Bump Elliot, Bob Bowlsby. Christine Grant was the women's athletic director from 1973 to 2000. When she retired, Bowlsby took over duties as both the men's and women's director.
"Beth is a talented and respected leader not only at Iowa, but also at the national level in college athletics," Iowa president Barbara Wilson said in a statement. "I am grateful she has agreed to lead this crucial part of our university and I am confident she will generate a lot of excitement and forward momentum for our student-athletes, coaches, athletics staff and Hawkeye fans."
MICHIGAN REPLACES VETTING COMPANY AFTER SHEMY SCHEMBECHLER DEBACLE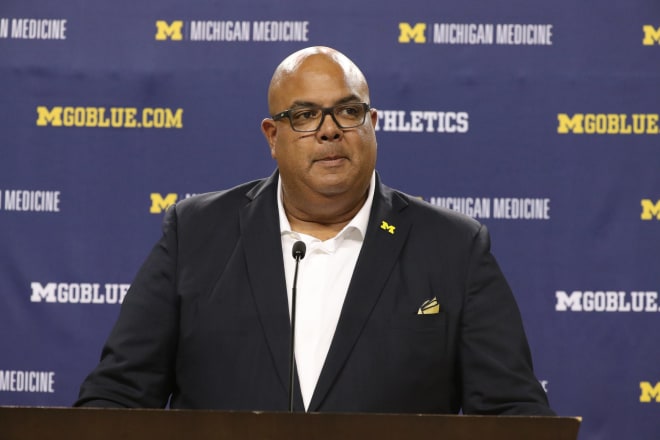 Following the resignation of Shemy Schembechler, Michigan has replaced the company is uses to vet social media profiles of potential employees.
Schembechler was hired in a recruiting position by Michigan football coach Jim Harbaugh, but resigned days later, on May 20, after a history of liked posts on social media suggesting Blacks benefited from slavery and Jim Crow laws in the South.
The Michigan head coach said that he read a report suggesting Schembechler's social media didn't raise any causes for concern. A Michigan spokesperson told the Athletic that the university uses two background checks for athletic department employees, but is examining the hiring process.
Harbaugh said the liked posts were "offensive" to him and the team members.
Schembechler is the son of legendary Wolverine football coach Bo Schembechler.
JOIN THE CONVERSATION ON THE HOOSIER'S MESSAGE BOARDS
-- SUBSCRIBE TO THE HOOSIER'S YOUTUBE