Cross' Walk-Off Single Lifts IU To 6-5 Win Over Michigan State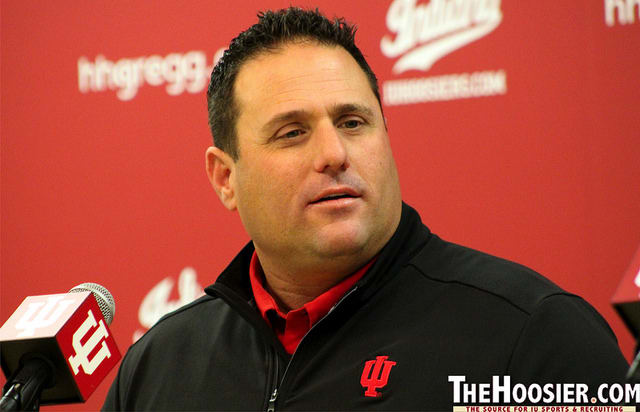 Indiana lives to fight another day in the Big Ten tournament.
Junior catcher Wyatt Cross' walk-off single in the bottom of the 10th lifted the fifth-seeded Hoosiers to a 6-5 win over eighth-seeded Michigan State Thursday evening at T.D. Ameritrade Park in Omaha, Nebraska.
IU will face the loser of No. 1 Minnesota vs. No. 4 Illinois Friday at 8:30 p.m. ET, while Michigan State is eliminated from the tournament.
"Not a great game, but a great finish for us," IU head coach Chris Lemonis said. "Really struggled early in the game and in the middle innings, then started to build momentum late. ... We live to play another day, which is exciting."
Freshman infielder Cole Barr's single to center field gave the Hoosiers life in the 10th. After he stole second, Cross stepped up to the plate and hit a flare single to left to bring Barr home.
"Coach told me once Cole got on, if I got a pitch early to take and Cole took off I should take it," Cross said. "I saw Cole get a good jump and it was a fastball away, so I took it. Cole had a great steal, slid in there, so I was just looking for a pitch to hit, just trying to poke something through to drive Cole in, and luckily one fell through."
Indiana trailed 5-0 through the first five and a half innings before an RBI single from junior utility man Matt Lloyd got the on the board in the bottom of the sixth. From there, sophomore outfielder Matt Gorski did the rest, first notching an RBI single in the bottom of the eighth then a towering two-out, 3-run shot to left in the bottom of the ninth to knot the contest 5-5.
" I don't think so, no," Gorski said, when asked if he had ever hit a ball that far. "I just got a really good pitch to hit, it was the pitch I was looking for and I got a really good swing on it."
Up until Lloyd's breakthrough RBI single, IU had left eight consecutive runners on base, including striking out swinging with the bases loaded on back-to-back innings.
Michigan State chased IU junior right-hander and starter Pauly Milto out of the game after three innings, during which Milto surrendered three earned runs off six hits with just one strikeout against the 14 batters he faced. Lloyd (4-1) picked up the win after striking out two and inducing a groundout in the top of the 10th.
Overall, it was a welcome result for Indiana after nearly getting shut out in their Big Ten tournament opener and recording just two hits.
"Sometimes we swing and miss when at times we shouldn't," Lemonis said. "But sometimes those home runs pay off."