Column: Time to go with defensive coordinator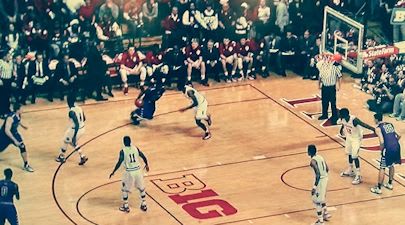 With a staff opening now available due to Steve McClain's departure to become
the head coach at Illinois-Chicago, could this be the opportunity for Indiana to
reshuffle responsibilities?
If you watched the Butler-Notre Dame game last night you may have noticed
that the Bulldog staff has separated responsibilities for the coaching staff. A
page out of a normal football staff's responsibilities with offensive and
defensive coordinators.
Former Hoosier player Michael Lewis is in charge of the offense and Terry
Johnson takes care of the defense for coach Chris Holtmann. Each comes up with a
game plan before each upcoming opponent. It's something Brad Stevens initiated
during his tenure at the school.
The Bulldogs were eliminated in overtime last night by a higher seeded Notre
Dame team but Butler ends the season ranked as the No. 8 team in the country in
defensive efficiency per this morning's numbers at KenPom.com
Indiana, on the other hand, struggled mightily on the defensive end this
season. The Hoosiers sit No. 218 in the country in that same defensive efficiency
measure. The issue can't be blamed on lack of height. No better evidence than
that than Indiana's season ending defeat Friday night to Wichita State. The Shockers were even shorter than
Indiana yet were much more aggressive with their defense, especially in how they
defended high ball screens, a popular offensive tactic in college basketball.
Lack of aggression was a season long issue for the Hoosier defense. Indiana
currently ranks 331st nationally with its 15.9 percent turnover rate. That
translates to forcing a miscue from the other team only once every 6.3
possessions. The best in the nation this year is West Virginia, creating a
turnover every 3.6 possessions.
Most college teams like Indiana spread responsibilities across the three main
assistant coaches. Each will take turns with the "scout" for the next game
unless one of the assistants is fairly young and less experienced. That's not
the case with Indiana which is blessed with more former Division I head coaches
than any other program in the nation. Besides McClain, who hasn't been
officially announced as new UIC head coach, Tim Buckley (Ball State), Chuck
Martin (Marist), Rob Judson (Illinois State) and Bennie Seltzer (Samford) have
all been the head guy at another program.
Placing someone in charge of the defense or offense has long been an approach
that NBA teams have successfully taken. Dick Harter was the defensive guru that
helped build the Detroit Piston defense under Chuck Daly in the mid and late
80's and then went on to help Pat Riley with the Knicks in the early 1990's and
worked for the Indiana Pacers from 1997-2000, helping Larry Bird coached teams
go to the NBA finals and two other Eastern Conference finals.
On the offensive end the most famous guru was probably Tex Winter. The
guy who coached Kansas State to eight league titles and two Final Four
appearances wrote a book in 1962 about his triangle offense (The Triple-Post
Offense). He was coaxed out of retirement in 1989 by then new Bulls head
coach Phil Jackson. That triangle offense then helped the Bulls to six NBA titles
and he followed Jackson to the Los Angeles Lakers where that team won three
straight titles.
There's no Dick Harter or Tex Winter out there to hire in the college
game but the point is a specialist can influence results. A realistic compromise might be having an assistant already on staff be given only the defense to worry about for games and possibly in practice as well.
Whether the Hoosiers go the specialist route or not it does seem time to
think "outside the box" when it comes to coaching defense. Maybe that's sitting
some of your best offensive players for extended stretches when their defense
isn't up to snuff. It's a risky strategy with the fragile egos and ever growing
number transfers. But risky times require risky measures.
Have your own thoughts on the matter?
Email
Peegs.
Download our app for either the