Bluiett talks Brandon Miller hire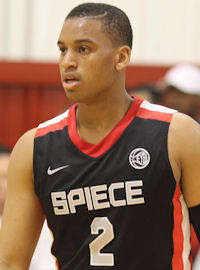 When the news broke that Brad Stevens was headed to the Boston Celtics, the
big question many had was what this might mean for the recruitment of
Indianapolis four-star
about his feelings now that the dust has settled.
"The Butler situation was shocking to me," said Bluiett. "I didn't know
anything about it but at the same time, I was happy for him."
Bluiett made his comments after a morning pool game in North Augusta, South
Carolina at the Nike EYBL Finals, otherwise known as the Peach Jam.
Of course the new Bulldog coach is Brandon Miller. Formerly a player and a
coach at Butler, Miller was hired from the Illinois staff, and had previously
worked on the Ohio State staff.
"Coach Miller getting the job, I have known him since my freshman year and I
don't think anybody else deserves it but him," said Bluiett.
He spoke about the interesting time before the hire when Miller and Michigan
assistant LaVall Jordan were being written about as the two main candidates.
Michigan, along with Butler, is believed to be especially strong with Bluiett in
his recruitment, and Jordan played on the same Butler team with Brandon Miller
over a decade ago.
"They were both calling me (during that time)," said Bluiett. "If coach
LaVall had got the job, that would have been good for him, he's one of the best
recruiters in the country. Either way it went, Butler would have been set for
success."
So now that the dust is settled?
"Since he gets the hire, nothing changes with Butler," said Bluiett. "I have
known him for four years and we have a good relationship. Probably a better one
that I have with Stevens, so that is always a plus."
The Park Tudor player talked about what he likes about the new Bulldog coach.
"Off the court he's outgoing and never have we really talked about recruiting
or anything like that. When I visited Ohio State, Illinois, we were just having
fun. He's that type of outgoing coach, but on the court he means business. I
like coaches that have two different personalities."
As far his entire recruiting picture, Bluiett told us nothing has really
changed since we caught up with him in late May. No cut down from his long list
of 24 schools. Among the coaches watching him last night were Miller, Jordan and
Indiana assistant Kenny Johnson. That trio watched Bluiett go for a game high 22
points in leading the Spiece Indy Heat to a 69-68, late comeback victory over
Team Final.
He did add that the Peach Jam is his last high profile event.
"I don't think we'll be doing any other tournaments except GRBA Nationals
(late July in Fort Wayne), so I'm not going to be doing anything but working out
until then," said Bluiett.