Blake Wesley set to visit Bloomington
A huge weekend awaits the Hoosiers as rising in-state junior Blake Wesley visits Bloomington later today.
Find out more about Blake below.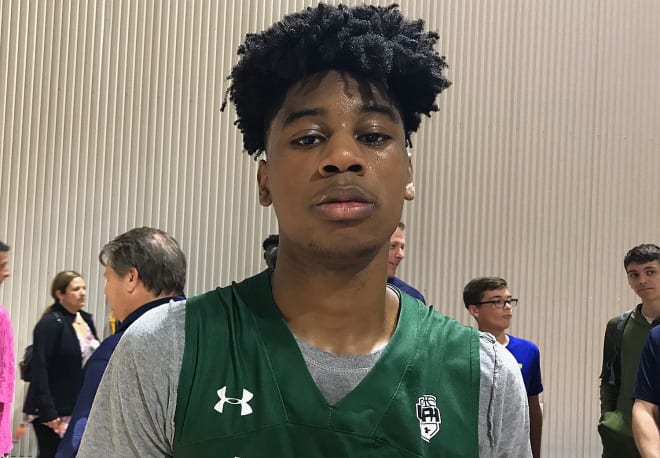 MONSTER WEEKEND AHEAD
An important weekend is on tap for the Hoosiers, to say the least. Besides Indiana's fourth game of the season and Dawson Garcia's impending decision hanging over the scene, IU also welcomes a high-priority recruit to town for the next few days.
WHAT TO LOVE
24 months ago, Blake Wesley was a 6-foot-1, 160 pound freshman playing JV.
Today, he stands almost 6-foot-5 and is a four-star recruit with a sky-high ceiling.
High major college basketball has noticed.
The natural-born scorer has picked up at least 12 high-major offers since July 16, including an IU offer on July 29, according to his Twitter.
Again, Wesley's upside holds his greatest value.
He has a high motor, great athleticism, crazy length, and quick reflexes. He's easily projectable as a high scoring combo-type, with long arms and capable of hitting at a high clip from distance. His shot mechanics are sound; he doesn't have a lot of moving parts to maintain.
He's also a "dog" on the floor, which is the highest compliment to pay a player. His competitive moxxie stands out to this observer.
A lot of younger players see a noticeable jump between their sophomore and junior seasons. Wesley seems to have hit his stride a bit early.
He's primed for a huge junior campaign.
IU OFFER
Indiana offered on July 29, 2019, joining a throng of programs to jump in head first for his services.
This recruitment looks to be a long, tightly contested battle involving the biggest names across the midwest.
Wesley is considered by some evaluators to be the second best player in a loaded 2021 class in the state.
Find out more on the junior below.
8 THINGS TO KNOW
1. Blake's father Derrick was a standout hooper in his own right. In fact, Derrick started 100 times in 114 career games at Ball State in the mid-eighties. He averaged 15 points, 4.5 rebounds and 2.0 steals per game over his career. Blake Wesley was born to score.
2. Blake stands 6-foot-4 with a 7-foot-0 wingspan, according to his father.
3. Bruiser Flint is heading up the recruitment for the Hoosiers.
4. Wesley plays at South Bend Riley for former Hoosier Andre Owens, who in his first year at the school.
5. Last season, Wesley averaged 12 points and hit almost 35 percent on his 77 three-point attempts as a sophomore.
6. He's tight with 2021 Notre Dame-commit JR Konieczny (South Bend St. Joe's)
7. He played last summer with G3 Grind on the Under Armour circuit.
8. Coach Miller offered Blake over the phone after evaluating the young prospect at the NCAA Academy at the end of July for the second time. He put on a shooting exhibition at the event, according to reports at the time.
SCHOOLS MOST INVOLVED
Notre Dame, Butler, Purdue, IU, Ohio State, Cincinnati, Xavier and Texas are the programs most active in his recruitment right now, according to his father Derrick.
OFFERS
Currently, he holds offers from IU, Purdue, Ohio State, Notre Dame, Butler, Iowa, Cincinnati, Xavier, DePaul, Wichita State, Miami-Ohio, Toledo and Ball State.
OFFICAL VISITS
Junior Year:
1. Purdue (September 2019)
2.. Notre Dame (October 2019)
3. Butler (November 2019)
4. Indiana (November 2019)
5. Ohio State (April 2020)
MORE READING