Antwaan Randle El Named To 2020 College Football Hall Of Fame Ballot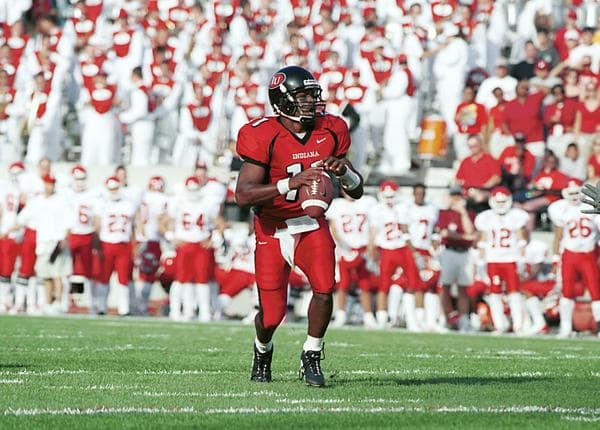 Former IU quarterback Antwaan Randle El (1998-2001) is on the 2020 ballot for induction into the College Football Hall of Fame, the National Football Foundation (NFF) announced today.
The dynamic athlete, who also appeared on last year's ballot, was one of 22 Big Ten and 76 FBS nominees overall.
Randle El earned All-Big Ten honors three years in a row (1999-2001) and earned Big Ten Freshman of the Year honors in 1998. A Big Ten MVP and a first team All-American in 2001, Randle El was also sixth in Heisman Trophy balloting after finishing 13th in 2000.
Randle El was also the first player in NCAA history to score 40 rushing touchdowns (45) and throw for 40 TDs (42), the first to record more than 2,500 total yards in four seasons, and the first to both pass for more than 6,000 yards and rush for more than 3,000 yards.
Following his four seasons at Indiana, Randle El was selected him 62nd overall in the second round of the 2002 NFL Draft by the Pittsburgh Steelers. He played in the NFL for 10 years with Pittsburgh and the Washington Redskins, and was a member of the 2005 Super Bowl champion Steelers.
In January, Tampa Bay Buccaneers head coach Bruce Arians hired Randle El onto his NFL staff as an offensive assistant.
According to the NFF, the criteria for Hall of Fame consideration include:
• First and foremost, a player must have received First-Team All-America recognition by a selector organization that is recognized by the NCAA and utilized to comprise their consensus All-America teams.
• A player becomes eligible for consideration by the Foundation's Honors Courts 10 full seasons after his final year of intercollegiate football played.
• While each nominee's football achievements in college are of prime consideration, his post-football record as a citizen is also weighed. He must have proven himself worthy as a citizen, carrying the ideals of football forward into his relations with his community and his fellow man, with love of his country. Consideration may also be given for academic honors and whether the candidate earned a college degree.
• Players must have played their last year of intercollegiate football within the last 50 years. For example, to be eligible for the 2019 ballot, the player must have played his last year in 1969 or thereafter. In addition, players who are playing professionally and coaches who are coaching on the professional level are not eligible until after they retire.
• A coach becomes eligible three full seasons after retirement or immediately following retirement provided he is at least 70 years of age. Active coaches become eligible at 75 years of age. He must have been a head coach for a minimum of 10 years and coached at least 100 games with a .600 winning percentage.
According to the release, the 2020 class will officially be inducted during the 63rd NFF Annual Awards Dinner on Dec. 8, 2020, at the New York Hilton Midtown. They will also be honored at their respective schools with an NFF Hall of Fame On-Campus Salute, presented by Fidelity Investments, during the 2020 season.
The announcement of the 2020 Class will be made January 2020 in New Orleans, the host city of the 2020 College Football Playoff National Championship.
Statistically, only a select few get chosen for the prestigious honor. Over the last 149 years, just 997 players have earned induction into the College Football Hall of Fame of the 5.26 million individuals who have played college football since Princeton first battled Rutgers on November 6, 1869. From the coaching ranks, 217 individuals have achieved Hall of Fame distinction.