AMC wrap-up report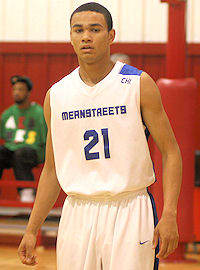 Putting together a group of highly acclaimed stars doesn't automatically mean
they'll win the spring and summer tournaments of the AAU season. The Indiana
Elite club team featuring four Hoosier Class of 2012 verbal commitments got that
lesson again yesterday in Bloomington during the final day of the adidas May
Classic.
After breezing through a pair of super pool games and Saturday night's
opening tourney game in the top 17 & under gold bracket, Hoosier fans probably
weren't likely worried by a morning second round tourney game against Baylor LNO,
a St. Louis area team. After all Ron Patterson was back. The 6-foot-3 shooting
guard had missed Saturday action to attend prom at Broad Ripple High.
From this reporter's angle a few main things led to what had to be the
biggest upset of the weekend. First and quite obvious, Baylor LNO wanted the
victory more. The St. Louis team was almost always first to loose balls. They
also created a lot of those loose ball situations by knocking it away from IE
front liner forwards Hanner Perea and Jeremy Hollowell. Perea has always had
some issues holding onto rebounds and yesterday was no exception. Hollowell can
be a bit late to react at times and he's been off the court for about a month
and was just getting back into finding his basketball rhythm this weekend. But
getting to balls and simple hustle was a team wide thing until the IE team got
desperate late.
A second problem was LNO guard Demetrius Floyd. He threw in some
three-pointers and other shots that not many defenses could stop. Nobody kept
point totals at the scorebook area but rumor had it Floyd had around 40 points,
he was that dominating. St. Louis area people know how good Floyd is as the
6-foot guard had some big games including his head-to-head matchups against
five-star senior B.J. Young (see
story).
A third problem is lack of depth. Indiana Elite is without Peter Jurkin,
played without Patterson until Sunday and had guys like Chicago area guard
Delvon Rencher not here as well. That meant seven or eight guys had to take all
the minutes and that's a problem on Sunday's in these spring tourneys that
compact the event into less than 48 hours. Obviously another problem is lack of
familiarity. There's not a lot of offensive sets or smooth play you can initiate
if you haven't played together before this spring as most other opponents have
had the luxury of enjoying.
What resulted Sunday was a 78-64 loss to the Baylor LNO. Indiana Elite had
led at half and was up six in the second half when coach Mark Adams tried to
rest a couple starters only to have it backfire as LNO went on a big run to earn
a six point lead. When the starters came back the momentum was still with LNO
and the lead was extended to double digits. Then it seemed like every time
Indiana Elite would make a surge, Floyd would rise up off the dribble from the
top of the key and drain a three-pointer.
Baylor LNO won this game but was upset themselves in the next round by Spiece
Select-Irwin. Such is the nature of these AAU tournaments. The winner of the 17
& under tournament was not a surprise. The Wisconsin Playground Warriors, led by
North Carolina commit J.P. Tokoto and Wisconsin commit Sam Dekker, raced through
rather easily on Sunday, defeating the Ohio Hoopsters in the final, 70-46. The
Wisconsin team actually played their last few games without Dekker.
Mitch McGary and his SYF Players team fell on Sunday afternoon the
IndyBall.com champs, the Eric Gordon Central Stars, 68-63. The Gordon team
though fell flat in the semis against the Wisconsin Playground Warriors and were
dismissed handily by Tokoto and company.
16 & Under
The Eric Gordon All-Stars squad from the juniors-to-be group shares a couple
common traits this spring with the Indiana Elite squad we mentioned above.
First, they both feature multiple Indiana verbal commitments. In this case it's
Indianapolis area forwards Collin Hartman and Devin Davis. Secondly, it's team
that hasn't lived up to expectations. This EG team didn't make it to Sunday last
weekend in Fort Wayne and didn't go anywhere in the Pitt Jam Fest last month. It
looked like more of the same at the AMC as they were handled in pool play by the
BA Hoyas and in Saturday's night's tourney opener were down 14 in the second
half and bickering at each other on the court. But this team full of athletic
wings sucked it up and found another gear, forced overtime in that game and rode
that momentum all the way to the 16 & under title here yesterday at the AMC.
Hartman and
Big Ten target
Zak Irvin
seemed to be the two guys who really
turned around their production the final few games. Hartman led all scorers with
19 in the 20 point title game win over the Louisville Magic. Irvin is the guy
who hit the game winner at the buzzer in a semifinal win over that BA Hoyas team
that had defeated them in pool play. In defense of the Kentucky based Hoyas,
they played that game without Purdue commit Derek Willis. The 6-foot-9 forward
had a hard spill late in pool play and his back worsened as the weekend wore on.
Despite missing Indiana commits Trey Lyles and James Blackmon Jr., the Spiece
Indy Heat still advanced in this age group all the way to the semifinals where
they fell by two to the Louisville Magic. Park Tudor's 2014 forward
Trevon Bluiett had a terrific weekend. The 6-foot-5 prospect had his jumper working all
weekend and is a crafty player that found points in other ways. Per coach
Reynardo Bluiett, Blackmon had a minor knee injury he felt needed resting and
Lyles had some "bumps and bruises" that kept him from Sunday play. The pair did
play on Saturday.
15 & Under
Meanstreets was the story here as the Chicago based program took home the
title with a 69-33 blowout of SYF Players in the final.
Drake Harris
of Grand
Rapids Christian was good all weekend but other players stepped up such as
6-foot-6 Gary Bowman forward Justin King and 6-foot-6 post Tyler Wideman from
Lake Central. This team's quarterfinal game Sunday morning against the Eric
Gordon All-Stars was one of the best 15 & under games we've seen this spring as
both teams continued to trade the lead all game. The game was tied when Drake
Harris drove and made a terrific pass inside but North Central forward Perry
Poindexter blocked the shot. A controversial foul was called on Poindexter and
Meanstreets hit one of two freebies with two seconds left to earn a one point
win.
Another late controversial call got Meanstreets into the final when an
underdog Indiana Elite Hoopmatics squad had the ball up one with 1.2 seconds but
was called for an illegal screen off an inbounds throw-in. Meanstreets then hit
both free throws to win that game and advance into the final. Standing out for
Hoopmatics in that semifinal was Lawrence North guard Daeshon Francis.