AMC: Day Two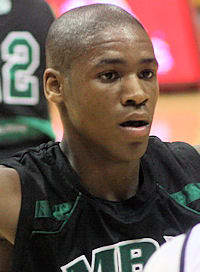 It's been a tough spring thus far for
Gary Harris
and his D3 Pride team. Last
night D3 lost forward Abdel Nader to sickness and starting point guard Jacobby
Bledsoe was lost late to cramps the D3 team was upset in the first round of the
tournament by the Michigan Titans, 77-75. Harris had 22 points and led a late
comeback but D3 once again failed to go anywhere in a spring tournament. After
the loss the Hamilton Southeastern guard was obviously upset, tweeting about his
team hasn't advanced beyond the first round all spring.
Harris had a terrific final pool game battle earlier that afternoon against
the always tough Wisconsin Playground Warriors. That team is led by North
Carolina commit J.P. Tokoto and Wisconsin commit Sam Dekker. During the first
half Tokoto skied and threw down was was perhaps the best dunk of the tournament
thus far. On the very next possession Harris responded with a dunk nearly its
equal. Harris ended up scoring 35 points in the game but again D3 fell, this
time 86-83.
When he met with the time media Saturday, Harris was very tight lipped on his
recruiting. He said there was no timeline for a decision or for a narrowing down
of a school list. He'll be busy in June with some summer camp trips with his HSE
team but had no specifics.
The Indiana Elite squad with the multiple Hoosier Class of 2012 commits had a
little easier time on Saturday, perhaps in part due to a bit less competitive super pool.
Indiana Elite won both of their pool games by more than 20 points and earned an
easy first round win last night over Shining Stars, 72-51.
The three Indiana commits shared the scoring load yesterday as evidenced by
their three game scoring averages on the day: Jeremy Hollowell/14.7 ppg, Hanner
Prea/14.0 ppg, Yogi Ferrell/13.3 ppg
Next up for this team is a 9:15 am game this morning against Baylor LNO.
Originally scheduled for Assembly Hall, that location has been changed to the
Sportsplex on court #4. Indiana Elite appears to have a favorable bracket draw
with defending champ SYF Players and the Wisconsin Playground Warriors in the
opposite bottom bracket.
16 & Under
The Eric Gordon All-Stars team with Indiana commits Collin Hartman and Devin
Davis have struggled a bit more than many people expected and this weekend has
been no exception to that. In Saturday pool play this squad was handled by the
Kentucky based team known as the BA Hoyas. Dominating that game was quickly
emerging 6-foot-9 forward Derek Willis, a recent Purdue commit who plays for
Bullitt East High School near Louisville. Willis had 19 points, 10 rebounds and
three blocks in a 71-63 defeat of EG.
Last night at Cook Hall it looked like another loss for this Eric Gordon
sponsored team as they trailed by 14 points early in the second half against The
Ville, another Louisville area team. With their weekend lives at stake, the 2013 squad
rode big second halves from Devin Davis (20 points) and Zak Irvin (19 points)
and forced overtime where they prevailed, 80-77. Indiana commit Collin Hartman
added 13.
This Eric Gordon All-Stars team will meet the Peoria Irish at 8:00 am this
morning at Cook Hall. The Peoria Irish advanced to this game with a double
overtime 79-73 win over
scoring 24 points. This weekend should help cement the Mishawaka Marian player
as a high major recruit.
The best 16 & under pool game of the weekend may have been a great back and
forth tussle between the Spiece Indy Heat squad with IU commits Trey Lyles and
James Blackmon and the Indiana Elite South squad led by Big Ten target Mark
Donnal. Park Tudor's Trevon Bluiett was the leading scorer in this one, scoring
28 points but his drive as time was expiring was blocked by Donnal to preserve a
78-77 win for Indiana Elite South. Donnal finished with 23 points for the
winners while Blackmon had 25 and Lyles finished with six.
Both the Spiece Indy Heat and Indiana Elite South team advanced through first
round play last night. Each will have round of 16 games at the Sportsplex this
morning, tipping at 8 am. A rematch is possible in the semifinals.
15 & Under
Not a lot of surprises here thus far but should be some excellent Sweet 16
action this morning. The Eric Gordon All-Stars team with IU target Jaquan Lyle
lost a one point pool game to Kentucky Select but had no trouble last night with
Gateway in the first round of the tournament. EG will meet Team CBIZ in a 9:15
am game this morning at Bloomington North's auxiliary gym. An interesting battle
with Meanstreets could occur in the quarterfinals if both teams with those early
games. Grand Rapids guard Drake Harris was again outstanding for Meansteets.
Also we spoke yesterday with Meanstreets power forward
Tyler Wideman
and the
Lake Central player confirmed Indiana is interested and he may visit Bloomington
soon. Wideman reports an early offer from Purdue. He's a 6-foot-6 wide body.
About half the round of 16 in this age group are Indiana based teams. Indiana
Elite programs boast three of those squads.
Printable brackets
Here are printable brackets for the top brackets in the three main age
groups:
Seniors |
Juniors |
Sophomores