AMC: Day One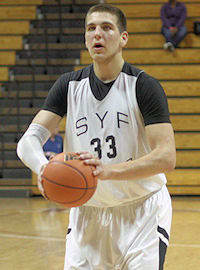 The "super pools" did what they were suppose to do in the first night of
action at the adidas May Classic--provide fans in attendance with some drama.
The first and last games at Assembly Hall weren't decided until the final few
seconds. In the opener the Eric Gordon All-Stars didn't have star guard Jaquan
Lyle to start the game but still managed to jump out to a 31-23 first half lead
on the Indiana Elite Hoopmatics. The Hoopmatics were coached by former Indiana
player Ray Tolbert, one of the stars on the Hoosiers' 1981 national title team.
Lyle, who had to make a long drive from Evansville, did make it midway into
that first half. His play, however, looked affected by the long drive and the
Tolbert coached Hoopmatics made a gallant comeback and were down just two and earned the game's final possession. But a
potential game winning three-pointer just missed with about two seconds to play and the Eric Gordon 15U team ran out the clock for a 58-56 victory.
During that first game we snuck over to Cook Hall to get a quick look at new
Sudanese imports Makur Vuou and Mangisto Deng. The pair was reportedly here to
play with the Indiana Elite/Team Indiana 15U squad. Both were there but Deng is
out for a while with a minor knee injury. Vuou had one big dunk and is more
filled out than most Sudan players of his age. He also looked a legit 6-foot-8.
His team survived Derrick Rose Best Choice, 70-66.
In the second game of the night at Assembly Hall, the focus of the media and
prospect from Mishawaka Marian had a quick start that helped his MBA 2013 earn a
one point halftime edge on the Indiana Elite Stars in a 16U super pool game. But
the superior depth of the Stars proved too much to overcome and the Indiana
Elite program prevailed, 69-57. Jackson finished with 17 points. Afterward he
told the media that he heard this week from Indiana coach Tom Crean and the two
discussed a potential visit to Bloomington in June. Notre Dame, Xavier and
Michigan are schools that are also involved but Jackson says no scholarship
offers at this stage.
The 8:30 game was a terrific 15U game between Meanstreets-Wilburn and Indiana
Elite One. Despite giving up a big lead, Meanstreets rode 23 points from
Drake Harris
to a 63-60 victory. Harris is yet another 2014 prospect with an early
offer from Indiana. He's a 6-foot-5 wing from Grand Rapids, Michigan. Big Lake
Central forward
Tyler Wideman
is fighting a leg injury but his 11 first half
points were key for Meanstreets.
The nightcap appeared on its way to a blowout when the SYF Players rode a
dominating first five minutes from Mitch McGary to earn an early 21-5 advantage
on the always tough Michigan Mustangs. The Mustangs are led by Michigan State
commit Denzell Valentine and Butler commit Chris Harrison-Docks. SYF was still
up 15 points and cruising in the second half when the Mustangs went to a full
court press. The strategy worked and the Mustangs were able to catch all the way
up. Valentine stepped up in the second half and several threes from unheralded
wing shooter Marques Mondy were key. While McGary was impressive the big
6-foot-10 center missed several late free throws that gave the Mustangs the last
possession with a one point deficit. But a Javontae Hawkins layup rolled in and
out at the buzzer and SYF survived this super pool game, 75-74. Mondy led all
scorers with 25 points. McGary finished with 14.
After the game McGary indicated that he hadn't heard from Tom Crean lately
but the Hoosiers are continuing to show some interest. He confirmed he worked in
unofficial visit to Kansas around his team's appearance last month in the
Jayhawk Invitational.
More AMC Day One Notes:
Former IU star and Los Angeles Clipper Eric Gordon was courtside tonight
watching his youngest brother Eron Gordon. Eron is just finishing up 7th
grade but saw some playing time tonight on the Assembly Hall floor with his
brother's 15U team. Former IU conditioning coach Jeff Watkinson, now
Gordon's personal trainer, was also at that game.
There was a Duke reunion at the first game as Indianapolis Pacer forward
Josh McRoberts ran into current Duke forward Mason Plumlee. Plumlee was
working the score sheet, the same job he had last year at the AMC. McRoberts'
younger brother Zack is also on the Eric Gordon All-Stars 15U team.
7-foot import Hakim Nyang did get to see a few minutes of playing time
for the Indiana Elite One 15s team. He's the third Sudan import from the
A-HOPE program that moved here to Bloomington this week. He's a bit raw
right now and needs strength but has a nice wingspan.