Zeller named MVP as Gold prevails in Derby Fest game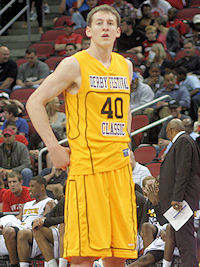 Behind 16 points and a team high nine rebounds from Cody Zeller, the Gold
team defeated the White team tonight in the Derby Festival Basketball Classic,
126-122. Afterward the Indiana bound center was named Gold team MVP as he helped
fuel a late run that earned the victory.
Zeller was 7-for-11 from the field, 2-for-4 from the line and added a team
high three steals. He spoke to Peegs.com about taking home the MVP award.
"It was definitely a great honor to win it with all this great talent here
tonight," said Zeller. "I was just trying to find openings and the guards were
finding me, so I want to give credit to them."
The Hoosier bound player won the award despite the fact that Big Ten bound
forwards LaQuinton Ross and Branden Dawson finished with 26 points and 23
points, respectively.
Indiana's other signee Austin Etherington played a team low 14 minutes and
was just 1-for-7 from the floor.
"It was an all-star game and some of the guys had to get their shots," said
Etherington.
The Hamilton Heights player did make tonight's final in the three-point
competition but fell in the final to Seton Hall signee Aaron Cosby, 13 to 11.
"I choked," laughed Etherington after the game. "I was feeling it but then I
couldn't come on through (the shot) in the end. But it's alright, I had fun."
One of the game's biggest plays was a charge drawn by Zeller with about a
minute to play.
"Just playing to win," said Zeller. "It was a big play. We needed a defensive
stop."
Etherington spoke to the big game of Zeller.
"It's awesome how good he is and how hard he plays," said Etherington. "I
just hope he's not one and done, that's all I have to say. I hope he stays a
couple of years."
Baylor bound Deuce Bello led the White team with 20 points. Oklahoma State
signee Le'Bryan Nash added 19. White team MVP, however, went to Angel Nunez (e"16 points on 6-for-10 shooting and added five boards).
Next up for the two Indiana signees is the All-Star series against Kentucky
in June. Many are also looking forward to see how the Senior All-Stars fare
against the highly regarded Junior All-Stars that will feature four Indiana
commitments.
"That will be pretty cool, those games should be great matchups," said
Etherington.
"I've played with a few of them in AAU last year and it should be fun to play
against them this time," said Zeller.
Catch all the post-game comments from both signees via streaming audio:
MP3
Austin Etherington: