Roth sets the record straight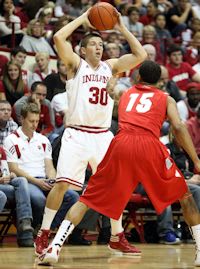 Frustrated by several articles that inaccurately portrayed the close of his basketball career at Indiana, Matt Roth tonight set the record straight.
Roth said he and coach Tom Crean have a great relationship and that the two were in regular contact throughout the summer.
Roth said he was very aware the chances were slim that a scholarship would open up at IU for him to play one more season, and he added Crean and the entire basketball staff made sure he was aware of all of his options, including playing a final season of college basketball at another school.
Roth has an undergraduate and graduate degree from Indiana, but also has another year of basketball eligibility.
Roth spoke this evening with Peegs.com in extensive detail about the situation.
"I knew at the end of the season, I was in a very unique situation. I realized I was on pace to finish my master's degree in the spring and that would set me up to begin pursuing work in sports administration. I knew I'd have a lot of options with the popularity of the fifth-year transfer rule to find another program with a different kind of degree. At the same time, I knew there was an outside chance I could stay and play at Indiana and pursue another academic achievement," Roth said.
"At the time, I had several talks with the coaches. I was very aware there were several things that would have to happen for a scholarship to open up with the recruiting success IU is having and the return of IU basketball to where it should be.
"I was well aware of all that. They did everything in their power. There were a lot of things they could not control. I was well aware of that.
"Coach Crean and the whole coaching staff did a great job of keeping me in the loop, helping me as a person, not just as an athlete. They were helping me in both phases.
"Obviously, the scholarship situation didn't work out in my favor. Prior to the end of the school year and our meetings, they were very positive. They wanted me to keep building my game and train, even if it was on my own. At the same time, they wanted to help me in any way possible, whether that was play somewhere else or play overseas in a certain league here or there. They did make those options available and offered a lot of support.
"If those things didn't work out at IU, they wanted to make sure I was successful, whether it was playing basketball or taking a job.
"Obviously as the summer went on, I began to be exposed to a lot of great opportunities, both with basketball and without basketball, including taking a professional job, becoming an adult and moving on in the world and building a reputation for me as a person and as a family man.
"Those things became clearer, and it wasn't something I was running away from. Now that the time has come, I look forward to becoming a great family man, husband and father down the road."
Roth became aware of the inaccurate articles tonight after spending the day playing in a charity golf event in Fort Wayne.
Roth repeated that at no time did he feel he wasn't in communication with Crean and the basketball staff about his situation. He said answers he gave to questions about whether he spoke with Crean at one specific point in time were misconstrued as a comment on the overall situation in some recent articles.
"There were conversations," Roth said. "They did a great job. They tried in every way to make it possible for me to return. I knew it would take a lot of things that nobody could control. I can't say enough about the way they helped me in job pursuits. I know behind the scenes, they've done a lot of great things to help me in the interview process. They've really been there and helped me as I've tried to find a job, and they've helped me try to find a job in the location where my fiance and I want to be as we start our lives."
Indiana currently has 13 players on scholarship, the maximum allowed by the NCAA, meaning there isn't a scholarship for Roth.
Roth said he and Crean not only talked but spent time together this summer and have no rifts in their relationship. The two talked Sunday night at a charity event in Fort Wayne attended by several hundred people, and Crean was effusive in his public praise of Roth during the event.
"He had me come down to work a couple camps. He was sending texts and calling. He checks up on me," Roth said. "He's a professional. I know he can't tell me everything. But he's been a huge asset in the interviewing process. Even last night, all the great things he said to a lot of potential future employers in the Fort Wayne area. I know he's been doing that all summer.
"Any time an employer calls, I know he's going to bat for me. I'm more than grateful for what he's done. What more can he do for me as I find a foundation for me and my life? He's been great so far in the job process, and that's only going to continue to build throughout my life."
Roth said his conversations with Crean and the basketball staff were very upfront.
"He never said, 'Hey, you'll be back,'" Roth said. "He was very open about it. He was passionate about it, and I knew he'd love to have me back, not because I'm a great player but because of the teammate I was with the guys I played with. You just can't account for everything. It just didn't quite work out. I know it wasn't easy for him to move on.
"He's been outstanding helping me and providing guidance when I'd have doubts about whether I'd fit into this job or that job or something in another field. He's been there. If I had any questions or concerns about doing something or playing in a certain country, he's been there for all that. And it's not just him. It's been the entire staff. They've all been extremely helpful.
"I've met a lot of great people at IU, and I was fortunate to play at Indiana and wear the candy stripes for four years."