No. 1 Maker to take more visits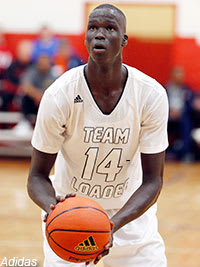 The No. 1-ranked player in the nation in the 2016 class by Rivals.com, Maker plans to visit at least three schools when his schedule allows.
"We'll probably go to Kansas, Indiana, Kentucky," Maker's guardian, Ed Smith, told Peegs.com Saturday night. "We've been to Kansas. We've been to Missouri. We've been to Duke. If you look at it, Indiana and Kentucky are guys we haven't been to yet.
"We didn't spend a lot of time at Kansas, so we'll probably see Kansas again. Those would be about it in terms of if we have time in those areas. ... I'm looking at the guys who are serious with us."
A 7-footer with incredible athleticism and an inside and outside game, Maker has a host of scholarship offers and could basically play at any college in the country. He currently is at the Athlete Institute in Canada after playing last year in Carlisle, Va.
Indiana assistant coach Chuck Martin has been the lead recruiter for the Hoosiers with both Thon and his brother
Matur Maker
, a gifted 6-foot-9 forward in the 2017 class. Both Maker brothers have scholarship offers from Indiana.
"Chuck's good. He's a good guy. He's really personable. He came from the NBA side of things. He was with Oklahoma City, so he can give you some insight into that," Smith said. "He doesn't slam you with so much where it's too much. He checks to see how you're doing and how things are going. I think he understands the process."
IU has been involved with Thon Maker for a while and he's familiar with IU and coach Tom Crean.
"He's watched coach Crean on the sidelines. He's seen him in different situations. He's seen situational stuff where he puts guys in different areas on the floor and how he's moved guys around. The primary on this has been Chuck Martin. I've spoken with coach Crean but Chuck has been all over us."
As for what puts Indiana in the small category of schools Maker will visit, Smith brought up recently NBA draft picks Cody Zeller and Noah Vonleh, both versatile big men.
"You look at Vonleh, you look at Zeller. He'll lift them and put them in different situations where he can go with a pick and roll and those things."
Martin has been to the Athlete Institute to see Maker, Smith said. Head coaches who have been to the school this fall are Bill Self of Kansas, Johnny Dawkins of Stanford, Kim Anderson of Missouri, Mark Turgeon of Maryland, Danny Hurley of Rhode Island and Dana Altman of Oregon, Smith said.
As for Kentucky, Smith said John Calipari's history with NBA-level players is a factor.
"There are programs who have dealt with players such as Thon. I think what you do is look at the experience of the coach and the experience of the situation. That gives him an opportunity to be under the wing of that type of leadership. That's what attracts Thon there," Smith said.
"Also there is the aspect of having the opportunity to carve out something for himself, to be special in that situation. That's important to him, to have a leadership role."
Smith also mentioned Kentucky's recent combine for NBA scouts.
"I think it was a game changer. That's something that was really thinking outside the box. I think giving your kids and your program an opportunity to realistically see where you are that early is great, to see how much better they can get within a period of time."
Smith was asked about the recent comments from Louisville coach Rick Pitino regarding shoe company influence. Thon Maker previously played for Nike-sponsored Boo Williams and this past summer played with adidas-sponsored Team Loaded. He also has played in adidas Nations.
IU has an apparel contract with adidas, Kentucky with Nike.
"I only know about Thon and Matur. It's not going to be about the shoes. One of the schools could easily be an adidas school or it could be a Nike school," Smith said. "It's going to be about the coach. It's going to be about the program itself."
Maker hasn't ruled out the possibility of playing overseas after high school, but isn't leaning that way as of now, Smith said.
"If the high school to pro opportunity were there, that's something you ask kids, but there is no high school to pro opportunity. Going to a different country won't be a problem for Thon," Smith said, noting Thon has lived in the Sudan, Australia, the United States and Canada.
"Sometimes in college, you have an opportunity to grow socially. Also you have the opportunity to get in a lot of living rooms. People see you. And you have an opportunity to build who you are.
"If a kid's not ready to go in there and deal with 30-year-old men, you have to be careful how you do these things."