McGary could go directly to NBA from prep school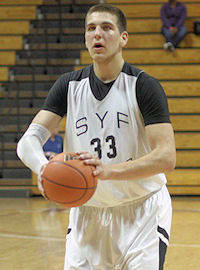 Mitch McGary
could be in the NBA after this season if he chooses to skip college.
The Chesterton, Ind., native fits the current parameters to be draft eligible in 2012 - he will be a year removed from high school graduation and old enough for the 2012 NBA draft.
Under current NBA rules, players must be at least 19 and a year removed from high school graduation.
McGary is spending a second season at Brewster Academy in New Hampshire. He is listed with the 2012 class for ranking purposes, but 2011 is his year of high school graduation for NBA draft purposes.
Born June 6, 1992, McGary would be 20 if the 2012 NBA draft is held during its normal time of latter June.
"At this time, we're not going to close the door on any opportunity," his AAU coach, Wayne Brumm said. "That is such a moving target. If you go in the draft and you're wrong, then you lose your NCAA eligibility. It's a very, very tricky and delicate situation. We can't rule it out, but I know it's a very delicate situation."
The 6-10, 250-pound post player is ranked No. 5 in the 2012 class by Rivals.com. He has impressed scouts with a Tyler Hansbrough-like motor and athleticism on an even bigger frame.
Indiana was among the schools recruiting McGary before he trimmed his list to Duke, Florida, Kentucky, Maryland, Michigan and North Carolina.
"To my knowledge, Mitch has not even thought about or contemplated going from Brewster Academy directly to the NBA," Brewster coach Jason Smith said. "With the most recent collective bargaining agreement, he would be eligible. He is 19 years of age and he did graduate from Brewster this spring and will be a post-graduate student this year."
McGary's situation could change depending on a new collective bargaining agreement currently in limbo with the NBA lockout.